The Museum of Magnetic Sound Recording is a private vintage sound recording collection.
Quick Overview -The Reel2ReelTexas collection was initiated in 1998 by Chris and Martin Theophilus (left) with a web site to provide information on magnetic sound recording devices. By 2012 the private Theophilus collection had expanded to 200+ reel to reel, wire and film recorders, as well as 100+ vintage microphones. In 2012 the non-profit Museum of Magnetic Sound Recording (MOMSR) was founded with a goal of creating a permanent public facility to house the private collection. After five years of pursuing numerous possibilities (view support letters), the MOMSR Board determined that a public sound recording technology was not viable. Potential opportunities more often choose artist memorabilia vs tech. On December 31, 2017, the non-profit was dissolved and the collection continues as a private entity.
Background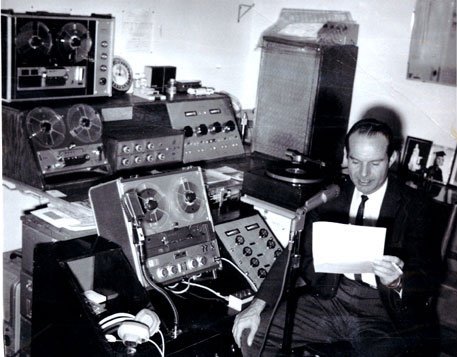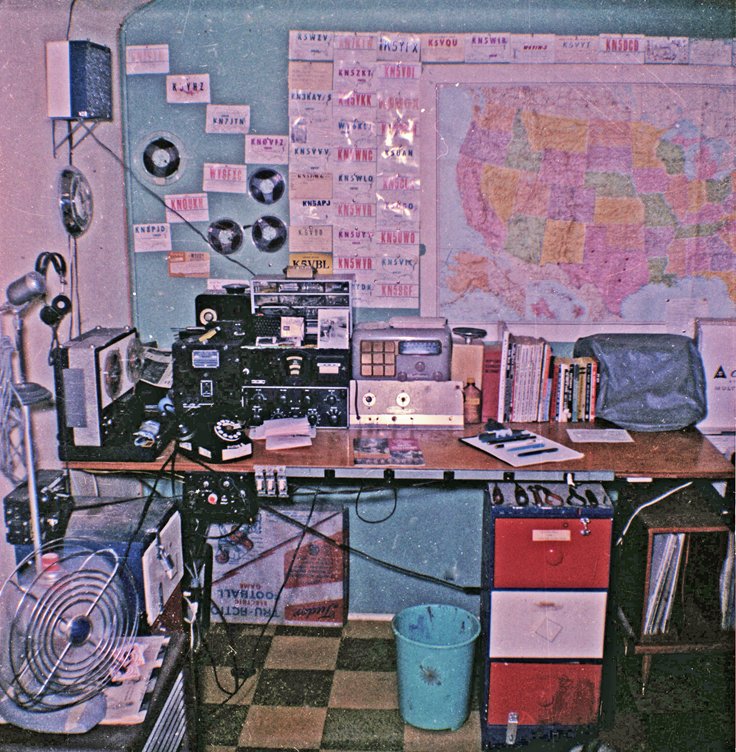 The Theophilus vintage magnetic sound recording collection began with Martin's interest in electronics in the 1950's. in the early 1960's at Alpine High School, he recorded the band using the new Sony 300.
Upon graduation from high school, he begin using a Webcor Squire to help musicians develop the songs. At Sul Ross University, Martin recorded the Music Department's recitals with the Ampex 600 and band and choir tours with his own Sony 600. He used Shure 556s and Electro Voice 665s. (1966 Highland Sound (Martin Theophilus) produced weekly recordings for the Alpine, Texas Public School radio show on KVLF).
Martin married Chris in 1985 and they developed an artist management and booking company that included Chris' partnering with David Perkoff Music. DPM was booking 500 corporate events a year in Texas. Martin provided the tech support and media production for their entertainment work. At this time we were using the Teac A-3340, Model 2 mixer and mastering on the Teac A-3300 half track. The media work evolved into video and the analog equipment was discarded. 
---
Reel2ReelTexas.com
In 1998, Martin missed working with the analog machines and began looking for information on the internet. Not finding many
resources, Martin created
Reel2ReelTexas.com and built a web site to provide resources to the general public. During a trip to the UK to visit Chris' family, we came across an Edison cylinder player. On our return to the States, Chris gave Martin a 1904 Edison Standard cylinder player (right) and a collection began. Martin also wanted to acquire, mostly via eBay, the analog recorders with which he'd worked. Thus began a collection that now has over 200+ reel tape and wire recorders, plus 100+ microphones. Many. including the Ampex 200A, are rare and the collection includes quite a few firsts (as in prototypes donated by Dave Boyers, of the original Magnecord PT-6, Teac's first TD-102, new in its original crate, and Willie Studer's first tape recorder, the T-26). The collection also preserves archives from companies that include, Stephens Recorders, Roberts Recorders, EditAll,  and many more.
---
Home/Stables/Studio/Museum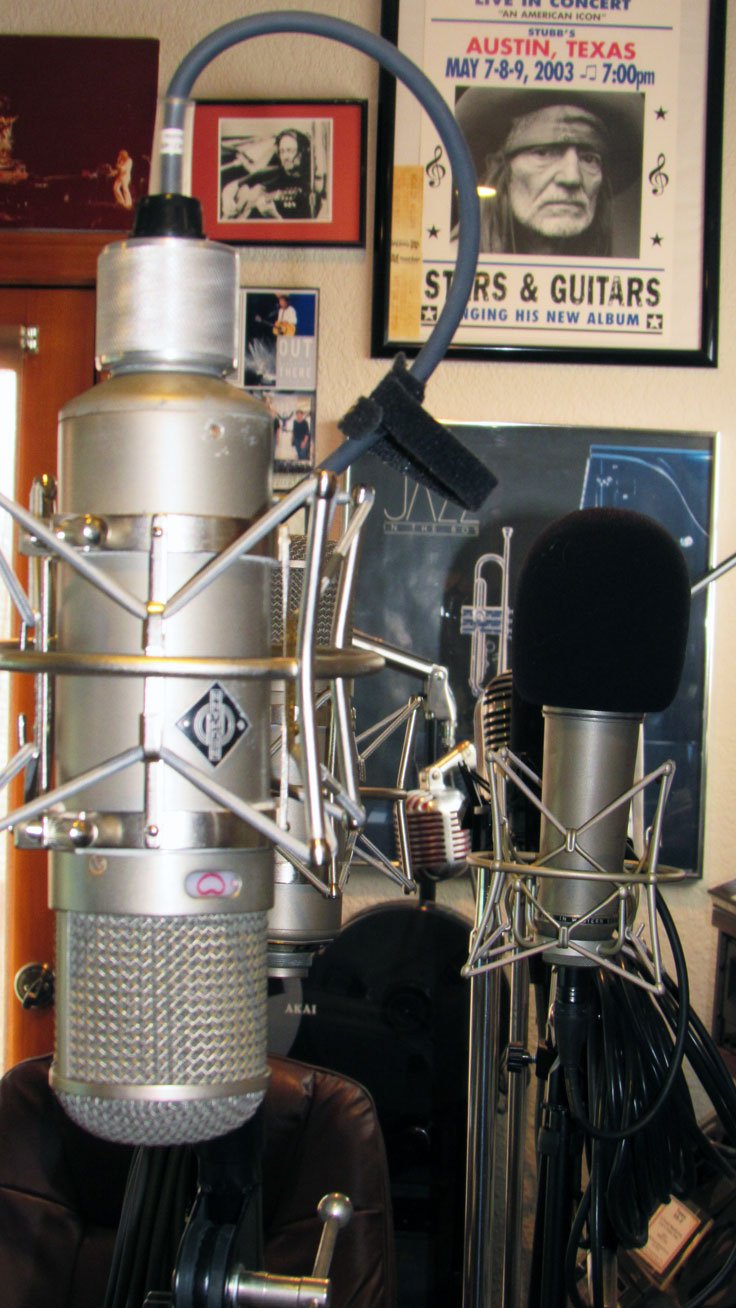 In 2002 Chris and Martin built a new home with stables and a recording studio east of Austin, Texas. The studio was intended to be an artist development studio, in addition to the corporate media work. However as the collection grew, we found folks were using their own technology to develop their music, so the studio space evolved into the museum. The recorder collection was displayed so they could be demonstrated and were interconnected to multiple sound systems. Large industry posters and historical memorabilia were integrated with the displays. Private tours were occasionally provided to audio professionals.
The non-profit Museum of Magnetic Sound Recording (2012 to 2017)
In 2012 Chris and Martin decided their collection needed to be permanently preserved in a public setting. The non-profit Museum of Magnetic Sound was formed . Board members included Lloyd Cates (an architect who had also designed the Theophilus home and studio), Michael F. Murray, a global consultant, Bennie Wallace, a national media distributor,  Thomas P. Washburn, an attorney and musician, Chris Theophilus and Martin Theophilus.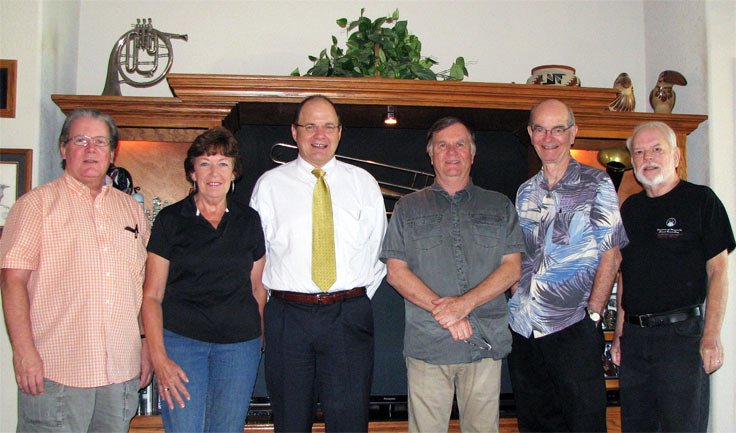 Bennie, Chris, Pat, Lloyd, Mike and Martin
Unfortunately the non-profit entity had to be dissolved due to lack of support.  In December 2017, after five years of working to create a permanent public non-profit museum, the Board decided we'd had given it our best effort and the non-profit was dissolved. Some of the significantly valuable vintage devices that had been donated to the Museum were purchased by the Theophilus permanent collection owners. Other donated items were sold to interested parties and the remaining funds donated to the non-profit "Swan Songs." The non-profit museum ceased to exist on December 31, 2017.
We intend to continue preserving the current collection and providing documentation and video profiles which are available at this link.
It is our hope that at some point in the future we will find the resources to make the collection permanently available to the public. here is a link to our proposed facility.
Phantom Productions, Inc. Directors
The Museum of Magnetic Sound Recording is a private vintage sound recording collection. The owners are Chris and Martin Theophilus. Chris and Martin are also the Directors of Phantom Productions, Inc. The company was founded in 1964.
Chris Theophilus
Chris is Phantom's CEO & Administrative Director and manages the association with David Perkoff Music. (photo right - David Perkoff, Christopher Cross and Chris Theophilus).
Since 1991 she has coordinated an annual average of over 400 events with DPM. She also shoots HD video for Phantom - from entertainment events & hot air balloons, to corporate training events. She retired in December 2018, however has continued to fill in for David on some occasions.
Chris grew up in Sudbury, Suffolk, England and brings a wonderful international flavor to our services. Her love of animals includes Taffie, a Quarter horse, and our German Shepherd Sophie.
Chris has served in entertainment related organizations including: 
Board Member, Austin Lawyers and Accountants for the Arts
Board Member, Austin Music Business Association
Chairperson, International Committee, Austin Music Business Association
Advisory Committee - Austin Community College Commercial Music Program
Martin Theophilus
Martin is the Multimedia & Production Director for Phantom, shooting and editing video, developing web sites, and is the IT manager. Martin develops web sites, produces training videos, marketing plans and consults with Phantom Productions' clients in areas of media.  Born in Marfa, Texas and raised in Alpine, Texas, Martin migrated to the Austin music scene in 1978. 
Interview with NBC's Jim Swift (right) Jim's comments
Martin has been active in building Austin's entertainment resources including:
Member, National Academy of Recording Arts and Sciences (NARAS) - GRAMMY'S (since 1988)
Member - Audio Engineering Society - (since 1982) Central Texas AES Treasurer (1980 -1985) & Treasurer/Web Administrator (2004 - 2006)
Member, Entertainment Industry Task Force, Greater Austin Chamber of Commerce
Chair, Austin Music Business Association
Chair, Austin Community College Commercial Music Program ('88 -'91) - Initiated and developed two year degree program that integrates music business with music performance, concert staging, audio engineering, promotion, entertainment business, marketing, artist management, tour coordination, lighting among other production skills.  Martin taught Music Business Marketing at  ACC.
Member, Austin Community College Business Management Advisory Board
Board Member, Austin Chapter of the Texas Music Association
Member, International Business Advisory Committee, Greater Austin Chamber of Commerce
Chief Engineer - Austin Custom Records ('79 -'81)