Masukichi & Saburo Akai - 1973 founders of Akai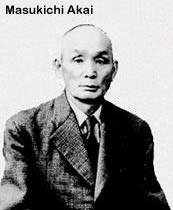 Akai Electric Company Ltd. was founded by Masukichi Akai in Tokyo Japan in July of 1929 as a manufacturer of radio components, sockets and other electrical parts.
Masukichi's business expanded rapidly through the 20's and 30's. Masukichi's eldest son, Saburo, grew up in the factory and later enrolled himself in night school at the Tokyo Institute of Technology to study electrical machinery.
This turned out to be a watershed event for as Akai grew, they expanded into the production of electrical motors due largely to Saburo's new expertise in electrical engineering.
The motor Saburo eventually designed caught the attention of a company which was making 16mm film projectors. This was a time when the first 16mm movies were being made in Japan.
The new business generated by the production of electrical motors allowed the father / son team to move their facilities from the backyard premises to a factory in Kamata in 1933.
Akai foundered at the onset of the Second World War. Only ten days after getting married in 1939, Saburo Akai received his military enlistment papers. Masukichi had sold all of his premises and equipment to Sawafuji Electric Co., where Saburo took up employment as an engineer after the war.Business was so good that by 1947, Saburo raised his capital investment in the new firm, bought back the Kamata plant from Sawafuji and changed the name of the concern to Akai Electric Company.
By 1948, Akai had started producing and selling phonograph motors. At this time recording technology was changing rapidly and there was demand for higher precision record players. Akai responded to this demand by continually upgrading the technology of their phono motors.
By 1951, they had developed the C-5 Variable Speed Motor, which produced minimal noise and vibration and proved extremely popular with audio enthusiasts of the period.
In 1953-4 Akai was one of the few medium sized companies to export goods without going through a wholesaler. Saburo had advertised in the American technical journal "Electronics." The headline "Why not buy Akai technology?" generated inquiries from 5 interested companies.
One of these companies was a small producer of audiovisual equipment for education, Roberts Electronics founded by Robert Metzner. The company presented Saburo with overwhelming demand for anything Akai was producing and business expanded rapidly for both as Roberts Electronics began using Akai products. Then in answer to a query from Akai about how their products were being used, Roberts sent back a tape recorder. Technicians at Akai looked over the model, made one of their own and quickly sent this back to their US client. Roberts replied in no time.
Roberts asked Akai to manufacture the completed tape recorders and said that they would take charge of sales.In 1954 Akai made its first foray into the tape recorder field by bringing out the AT-1 model, a tape recorder kit. This was followed in 1956 by their first independently developed tape recorder, the 900. The model was well received and orders started coming in fast.
Saburo decided to take a trip to the U.S. to further study the market. He was completely taken aback by the immense market he found there, and returned to Japan with the realization that if you had a good product, you could be sure of selling it in America. From then on the firm focused on expanding their facilities and gearing their production towards improving quality.
In 1973 Saburo Akai died during a New Year's trip to the ski resort of Shiga Kogen
Bill Arhos - The father of Austin City Limits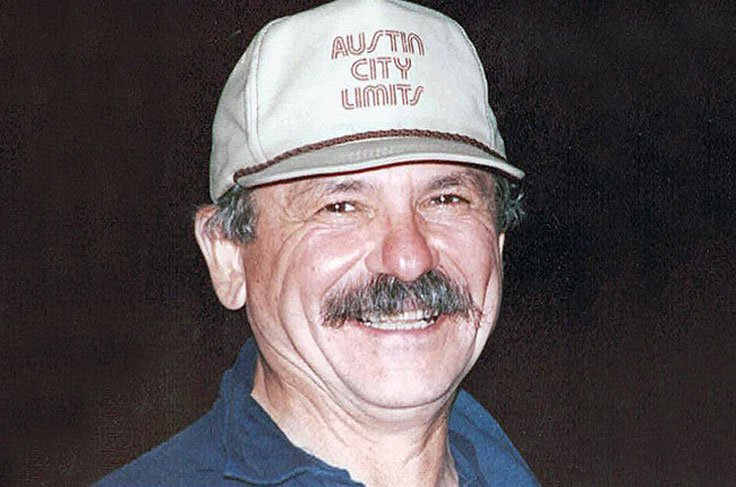 Arhos played a key role in the development of the musical institution, and served as executive producer of the show for 25 years.
The father of Austin City Limits, Bill Arhos, passed away on April 11 in Austin, Texas. He was 80.
Arhos worked for nearly 40 years as an executive at the Austin PBS station KLRU-­TV, beginning in 1961 with the station's launch and including a run from 1986 until his retirement in 1999 as president and general manager. He was executive producer of Austin City Limits from its start in 1974 up through 1999.
He also served on the boards of PBS and the Country Music Association. A graduate of Rice University, Arhos was honored by his alma mater in 2007 with the Distinguished Alumni Award. The pilot for Austin City Limits, featuring Willie Nelson, was shot in October 1974 and distributed to a network of about 50 PBS stations beginning in 1975.He also served on the boards of PBS and the Country Music Association.A graduate of Rice University, Arhos was honored by his alma mater in 2007 with the Distinguished Alumni Award. The pilot for Austin City Limits, featuring Willie Nelson, was shot in October 1974 and distributed to a network of about 50 PBS stations beginning in 1975.  "The idea for Austin City Limits was not just his alone, but he brought it to life, and he kept the show going and growing through some difficult times," saidACL executive producer and longtime colleague Terry Lickona. "Whether they know it or not, millions of music fans, artists and PBS viewers owe a debt to him for his enormous contribution to what's become a cultural institution." 
Arhos was inducted into the inaugural Austin City Limits Hall of Fame last year for his vision, passion and dedication to the show. He was honored at the show's original studio home along with Nelson, Darrell Royal and Stevie Ray Vaughan and Double Trouble. Billboard April 14, 2015
Peter Bang 1900 -1957 & Svend Olufsen 1897–1949 • founders Bang & Olufsen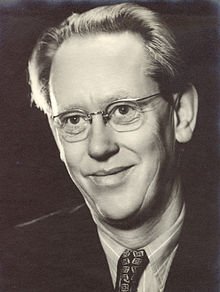 Founded in 1925 by Peter Bang and Svend Olufsen, who designed a radio to work with alternating current, a product of significance at a time when most radios were still running on batteries. In 2004, the company opened a factory in the Czech Republic where it employed approximately 250 staff producing mainly audio products.
Son of Camillo Bang, a successful Danish businessman, showed great interest in radio technology from an early age. After graduating as an engineer in 1924, he spent six months working in a U.S. radio factory. Upon his return to Denmark, he teamed up with his friend Svend Olufsen (1897–1949), whose parents made the attic of their manor house in Struer in Jutland available for experiments. When they officially opened their business in 1925, Bang concentrated on the technology while Olufsen dealt with business. There were a number of successful developments in the 1930s and 1940s, including a sound recording system for the film industry, roof-mounted loudspeakers for circuses and army vehicles, and the iconic Beolit 39 radio with a Bakelite cabinet.
It was, however, many years before their business became significantly profitable. The firm suffered a huge setback towards the end of World War II when its factory at Gimsing in Struer in Northwestern Jutland was burnt down by pro-Nazi saboteurs as punishment for the management's refusal to collaborate with the Germans. Undeterred, Bang and Olufsen rebuilt the factory, producing electric razors until 1955, and then going on to develop a range of radio, radiogram, and television sets, later influenced by designer Ib Fabiansen when he began work for the company in 1957.
In the 1990s, B&O opened its dedicated stores, selling directly to users instead of selling through retailers. The production of audio separates was discontinued in favor of mini-type audio systems sold, as was usual for B&O, at a price higher than the industry average.
Due to the economic crisis of 2008 the company experienced a sharp decline in sales and announced significant losses; between 2008 and 2009, annual revenue plunged from $853 million to $528 million, and its stock price plummeted from $52 to $8.50. A restructuring plan included 300 layoffs in Denmark on 21 October 2008, and the abandonment of development of new mobile phones, MP3 players, and standalone systems like DVD2 and HDR2. Instead, the company will focus on its traditional strengths: high-quality audio and video products as well as sound systems for the automotive industry. B&O returned to profitability in 2010.
In January 2015, B&O revealed that the firm would consider bid approaches from competitors due to a profit warning issued at the end of 2014. In March 2015, HP announced that B&O would become the company's new premium audio partner for its computers and other devices. The partnership replaced one with Beats Electronics which ended upon its acquisition by Apple Inc.
B&O has a distinctive design appeal that Wired described as "quality media delivery via striking objects".Their work with radios and loudspeakers led them to value high fidelity musical reproduction uninfluenced by technological limitations; in Danish Ærlig musikgengivelse, meaning "honest music reproduction". To this end, psychoacoustics was important to designing and testing B&O products.[citation needed]
By 1960, B&O had begun its foray into global markets with star designers Henning Moldenhawer and Jacob Jensen B&O hires designers rather than directly employing them in the company David Lewis, who became involved with B&O in 1965 then went on to design most of the company's products after 1980.[citation needed] In 1978, the Museum of Modern Art in New York City held an exhibition dedicated to Bang & Olufsen designs. It is known to give its designers a lot of free rein
It also has been debated that Apple's iPod design was inspired by B&O's BeoCom 6000, a wireless telephone designed by Henrik Sørig Thomsen with a wheel to scroll.
Semi Joseph Begun  1905 - 1995

In 1943 Begun was Vice President of Research for Brush Development Company, Cleveland, Ohio. Brush's main business was the production of piezoelectric phonograph pickups, the least expensive and most widely used pickup of the late 1930s. They also, however, produced in cooperation with Western Electric the magnetic tape sound recorders. These used hardened steel tape as the recording medium.
Another product they manufactured were known as "wire recorders." These used stainless steel wire, with a composition similar to (or perhaps identical with) high carbon high chromium cutlery steel, which is ferromagnetic, as the recording medium. The recording head was a split ring, with the wire running in a groove in the head, quite similar to the heads used today. High frequency AC bias was used to linearize the recording. The ferritic stainless steel was quite strong. Diamond dies were required to draw it into wire. Dr. Begun obtained a contract from the National Defense Research Council to perform research and development on a substitute for the stainless steel wire. The work was justified by the military use of the recorders and the shortage of facilities for producing the diamond dies.
Dr. Begun had two concepts in mind for a different recording medium. One was to find a means for coating a ductile nonmagnetic metal wire with a metallic magnetic coating. The other was to coat a non-metallic tape with a magnetic coating. He placed the work on wire in the Research Department of Brush Development Company, and contracted with Battelle Memorial Institute, Columbus, Ohio, for work on the development of a coated non-metallic tape.
Emmanuel (Bert) Berlant  1911 - 1985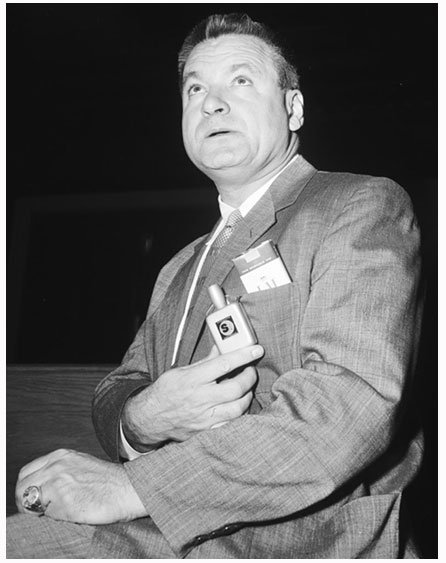 Emmanuel (Bert) Berlant died 1985 April 22, at Cedars-Sinai Hospital, Los Angeles, CA, after a long illness.
A fellow of the AES and a member of the Hollywood Sapphire group, Bert enjoyed a long and successful career as an electronic engineer, consultant and manufacturer. He be- came associated with the New York experimental theater group during the mid 1930s and was involved primarily with set design and lighting. His efforts to improve sound and lighting led to intensive study in electronics and research in the field of optics.
During the early war years (1941 - 1943) Bert became the director of research for Optical Research, Inc. of Long Island, New York. One no- table product developed under his direct supervision was a 70 mm combat camera for Signal Corps battlefield reconnaissance photography.
In 1943 Mr. Berlant went to the U.S. Signal Corps Photo Center in Astoria, New York, where he was retained as an expert consultant to the Signal Corps Pictorial Engineer- ing Research Laboratories. He re- mained there as supervisor of the laboratories until the end of the war in 1945. During that time he designed and patented the Robotron camera,
to solid state (transistor) operation. Bert's companies were one of the first manufacturers to convert to total solid state equipment. It was during that time that Bert became a fellow of the Audio Engineering Society for his contribution to the art of magnetic recording. Active in trade associations, Berlant helped found the Institute of High Fidelity Manufacturers and served for four years as the West Coast Electronic Manufacturing Association representative on the board of directors of' the National Trade Show.
In 1956Bert left Berlant Associates and became president of Stephens Trusonic, Inc., a manufacturer of professional microphones and theater loudspeaker systems. He redesigned the entire loudspeaker line and introduced it to the high-fidelity home music market. In 1960 he became an independent engineering and product management consultant for various electronic firms. In 1963Packard Bell Electronics, Inc. enticed Bert to join them with an unusual working arrangement. During the next few years he served in the following capacities: product manager, senior research scientist, corporate planning, assist- ant to the president, and as director of operations for Teledyne Commercial Products. Inc.
subsequently
proved, general purpose camera of the U. S. Medical Corps. After mov- ing to Los Angeles in 1946 he and several former associates of the Signal Corps Center founded Berlant Associates, Inc., which designed, manufactured, and distributed high- fidelity home music systems.
From 1949-1953 the company introduced several new multitrack stereophonic, magnetic tape re- corders. Two different series were presented-the Berlant concertone series for high-fidelity home rnusic systems and the Berlant professional recorders for recording studios and radio stations. Bert won a reputation as a pioneer in the manufacture of stereophonic and high-fidelity music equipment.
During this period the industry was changing from radio vacuum tubes
An ardent student and collector of southwest American lndian art, Bert was president of Amerind Art' Inc" in quality American
Indian art since 1972. In the last few years he designed a radically / new loudspeaker with improved acoustical ambiance. This loud- speaker designed for digital use was appropriately named the "Omni Radial Speaker." He received a pat- ent for its design shortly before his death.
Berlant will always be remembered by his close friends and associates as a dedicated, innovative engineer with an open mind, trying noncon- ventional approaches to engineering problems.
He is survived by his wife Gertrude and two sons, Tony and Jeffrey.
Emile (Emil) Berliner - May 20, 1851 – August 3, 1929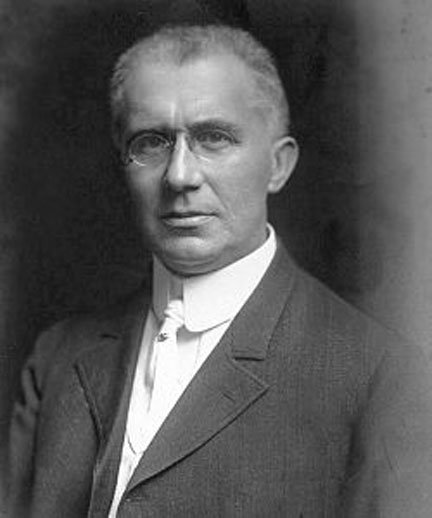 A German-born American inventor. He is best known for inventing the flat disc phonograph record (called a "gramophone record" in British and American English) and the Gramophone. He founded the United States Gramophone Company in 1894,[1] The Gramophone Company in London, England, in 1897, Deutsche Grammophon in Hanover, Germany, in 1898, Berliner Gram-o-phone Company of Canada in Montreal in 1899 (chartered in 1904), and Victor Talking Machine Company in 1901 with Eldridge Johnson.
After some time working in a livery stable, he became interested in the new audio technology of the telephone and phonograph, and invented an improved telephone transmitter (one of the first type of microphones). The patent was acquired by the Bell Telephone Company (see The Telephone Cases). In America, Thomas Edison and Berliner fought a long legal battle over the patent rights. But on February 27, 1901 the United States Court of Appeal declared the patent void and awarded Edison full rights to the invention, stating "Edison preceded Berliner in the transmission of speech...The use of carbon in a transmitter is, beyond controversy, the invention of Edison" and the Berliner patent was ruled invalid.[6][7] Berliner subsequently moved to Boston in 1877 and worked for Bell Telephone until 1883, when he returned to Washington and established himself as a private researcher. Emile Berliner became a United States citizen in 1881. Berliner also invented what was probably the first radial aircraft engine (1908), a helicopter (1919), and acoustical tiles (1920s).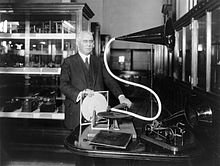 1897 Berliner Gramophone record
In 1886 Berliner began experimenting with methods of sound recording. He was granted his first patent for what he called the "Gramophone" in 1887. The patent described recording sound using horizontal modulation of a stylus as it traced a line on a rotating cylindrical surface coated with an unresisting opaque material such as lampblack, subsequently fixed with varnish and used to photoengrave a corresponding groove into the surface of a metal playback cylinder. In practice, Berliner opted for the disc format, which made the photoengraving step much less difficult and offered the prospect of making multiple copies of the result by some simpler process such as electrotyping, molding or stamping. In 1888 Berliner was using a more direct recording method, in which the stylus traced a line through a very thin coating of wax on a zinc disc, which was then etched in acid to convert the line of bared metal into a playable groove.
By 1890 a Berliner licensee in Germany was manufacturing a toy Gramophone and five-inch hard rubber discs (stamped-out replicas of etched zinc master discs), but because key US patents were still pending they were sold only in Europe. Berliner meant his Gramophone to be more than a mere toy, and in 1894 he persuaded a group of businessmen to invest $25,000, with which he started the United States Gramophone Company. He began marketing seven-inch records and a more substantial Gramophone, which was, however, still hand-propelled like the smaller toy machine.
The difficulty in using early hand-driven Gramophones was getting the turntable to rotate at an acceptably steady speed while playing a disc. Engineer Eldridge R. Johnson, the owner of a small machine shop in Camden, New Jersey, assisted Berliner in developing a suitable low-cost wind-up spring motor for the Gramophone and became Berliner's manufacturer. Berliner gave Frank Seaman the exclusive sales rights in the US, but after disagreements Seaman began selling his own version of the Gramophone, as well as unauthorized copies of Berliner's records, and Berliner was legally barred from selling his own products. The US Berliner Gramophone Company shut down in mid-1900 and Berliner moved to Canada. Following various legal maneuvers, the Victor Talking Machine Company was officially founded by Eldridge Johnson in 1901 and the trade name "Gramophone" was completely and permanently abandoned in the US, although its use continued elsewhere. The Berliner Gramophone Co. of Canada was chartered on 8 April 1904 and reorganized as the Berliner Gramophone Co. in 1909 in Montreal's district Saint Henri.
Berliner's other inventions include a new type of loom for mass-production of cloth; an acoustic tile; and an early version of the helicopter. According to a July 1, 1909, report in The New York Times, a helicopter built by Berliner and J. Newton Williams of Derby, Connecticut, had lifted its operator (Williams) "from the ground on three occasions" at Berliner's laboratory in the Brightwood neighborhood of Washington, D.C.
Between 1907 and 1926, Berliner dedicated himself to improving the technologies of vertical flight through the development of a light-weight rotary engine, which he improved upon throughout the 1910s and 1920s. With R.S. Moore, also a Scientist and Inventor, as his chief assistant, Berliner obtained automobile engines from the Adams Company in Dubuque Iowa, manufacturer of the Adams-Farwell automobile. This car used air cooled three or five cylinder rotary engines which were developed in-house by Fay Oliver Farwell (1859–1935). Berliner and Farwell adapted them for use in perfecting "machines" produced for vertical flight. His realizations allowed him to move away from the heavy in-line engines to lighter rotary models, which led to the invention of a 6-hp rotary engine for the improvement of vertical flight. It was these experiments that led to the formal creation of the Gyro Motor Company in 1909. And it was the creation the 6-hp rotary engine that initiated the use of rotary engines in aviation. The Gyro Motor Company manufactured these and other improved versions of the Gyro Engine between 1909 and roughly 1926. The building used for these operations exists at 774 Girard Street, NW, Washington DC, where its principal facade is in the Fairmont-Girard alleyway.
By 1910, continuing to advance vertical flight, Berliner experimented with the use of a vertically mounted tail rotor to counteract torque on his single main rotor design. And it was this configuration that led to the mechanical development of practical helicopters of the 1940s. When the Gyro Motor Company opened, Spencer Heath (1876–1963), a mechanical engineer (among other things), became the manager. Heath was connected with the American Propeller Company, also a manufacturer of aeronautical related mechanisms and products in Baltimore, Maryland. Both R.S. Moore, Designer and Engineer, and Joseph Sanders (1877–1944), inventor, engineer, and manufacturer, were involved in the original operations of the company. Berliner was president of the newly founded Gyro Motor Company and much of his time was spent dealing with business operations. which merged to become Berliner-Joyce Aircraft
On July 16, 1922, Berliner and his son, Henry, demonstrated a working helicopter for the United States Army. Henry became disillusioned with helicopters in 1925, and in 1926 founded the Berliner Aircraft Company,[8] which merged to become Berliner-Joyce Aircraft in 1929.
Berliner, who suffered a nervous breakdown in 1914,[9] was also active in advocating improvements in public health and sanitation. He also advocated for women's equality and, in 1908, established the scholarship program, Sarah Berliner Research Fellowship, in honor of his mother. Berliner was also supported and advocated Zionism.
John Boyers  1915 - 2012 • One of the founders of Magnecord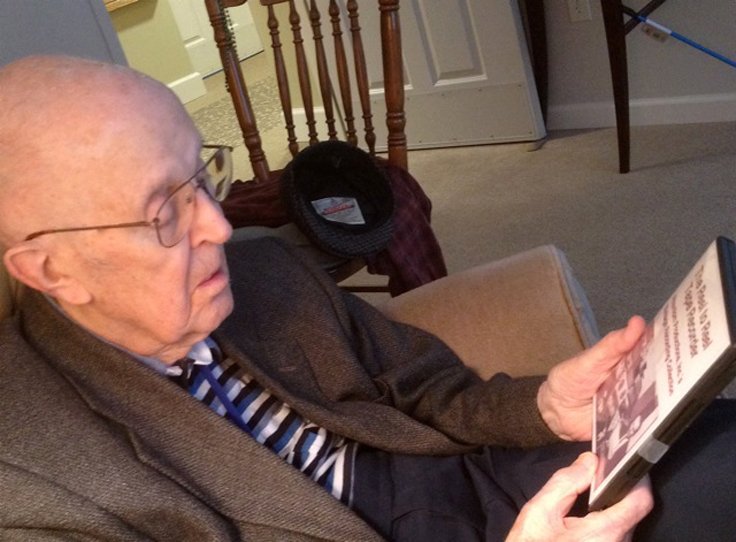 On September 29, 2012 I was saddened to receive word from Dave Boyers, that his Dad had passed away. Here is the message he sent out.
"Gentlemen,
The last remaining founder of Magnecord, Inc. has now passed into history. Dad has wanted to go be with my mother for some time now, suffering the ravages of Alzheimer's for several years. His wishes were finally granted.
To the degree he could understand it, it has been no small measure of pride that so many people have come to know and appreciate the work he did half a century ago to further the art and science of audio recording.
Similarly, the work all of you do to keep the memory of those early pioneers alive is not only worthwhile, but also gives others like Dad a sense that the efforts they made are not forgotten.
Best wishes to you all,  Dave Boyers (John's son)
Hanna, Phil. "Recorders Pay Off For 5 Young Men." Chicago Daily News, Nov. 30, 1949, p. 42.
"Back in July, 1946, I wrote about five young fellows who worked for the Research division of Illinois Institute of Technology. They set up shop at W. 63d st., to make a special purpose high-fidelity wire recorder. Their youthful enthusiasm for going into business on their own was notable. I had an idea they would succeed. So the other day I checked up to see what they had done in three and a half years on their own.
Like so many new firms, they altered their product in May, 1948. They are selling a tape recorder to broadcasting stations and other professional users. They tell me all national radio networks use their machines; that of a total of 3,000 professional users, they have 2,300 machines in use. They say they are doing special work for such firms as the Bell Telephone Laboratories.
The little firm, known as Magnecord Inc., has outgrown the 63d st. location with 2,000 square feet. It is now housed at 225 W. Ohio st. with 9,000 square feet. They have 90 employees compared with 12 at their former location, are doing $90,000 a month in sales. R. J. Tinkham, 38, is president. Their success is helped along by a vigorous sales policy. C. G. Barker, 28, sales manager, says that no matter how good your product, it has to be sold by intensive solicitation. He doesn't believe in the 'better mousetrap' theory. He set up 11 regional factory representatives and 106 distributors, and says business is especially good in the Southeast - that Georgia is booming. J. S. Boyer, 34, is chief engineer. He has four other young engineers constantly working to better the product. R. L. Landon, 32, is production manager, which rounds out about the most closely knit top organization I have recently seen. F. A. Baxter, the fifth of the original group, left the organization.
'Don't think we didn't have our troubles,' says Tinkham - 'we know what a 70-hour week is. But Chicago firms helped, the bank helped - and now we can see daylight.' A net worth of $121,000 seems to confirm."
Marvin Camras  1916 - 1995
Camras built his first recording device, a wire recorder, in the 1930s for a cousin who was an aspiring singer. Shortly afterwards he discovered that using magnetic tape made the process of splicing and storing recordings easier.
Camras's work attracted the notice of his professors at what is now Illinois Institute of Technology (IIT) and was offered a position at Armour Research Foundation (which merged with Lewis Institute in 1940 to become IIT) to develop his work.
Before and during World War II Camras' early wire recorders were used by the armed forces to train pilots. They were also used for disinformation purposes: battle sounds were recorded and amplified and the recordings placed where the D-Day invasion was not going to take place. This work was kept secret until after the war.
In June 1944 he was awarded US Patent number 2351004,[1] titled "Method and Means of Magnetic Recording". In all, Camras received more than 500 patents, largely in the field of electronic communications.
Camras received a bachelor's degree in 1940 and a master's degree in 1942, both in electrical engineering, from IIT. In 1968, the institution awarded him an honorary doctorate.
Talton R. Craig (1899 - 1952) founded Craig Movie Supply Company, Craig - Panorama and co-founder of Roberts Electronics 
From www.radiomuseum.org
Located in Los Angeles, California and originally founded in the 30's as Craig - Panorama by Robert Craig to distribute photographic products.
In 1952 his son, the economist T. Robert Craig Jr., took over as chairman of the company and quickly transformed the business into an importer and distributor of Brown Goods, although in the late fifties and 60's the company did some of their own design, quality control and final assembly but this was mainly to get around the very stringent USA import tax regulations at the time and by 1972 the company had ceased all local assembly.
In 1963 the company changed from a California registered company into the Delaware registered Craig Corp.
Although the company traded in all kinds of CE products ranging from alarm clocks through calculators (very high tech at the time) the company's became best know in the 60's for their tape recorder products that they sourced from Sanyo, Pioneer and others, initially these were mostly Reel to Reel but the company expanded into the 8 Track Cartridge market in the latter half of the decade and met with spectacular success in the ten emerging car audio market, the end result being that in last 2 decades of the company's life it was mostly known as a provider of car audio products and novelty high tech electronics.
The company had for a time very close ties to Pioneer and when Pioneer USA was set up in 1972 a number of top Craig employees left to work for that company.  The company's assets including the brandname were sold to Bercor in 1985. 
Ray M. Dolby  1933–2013
January 18, 1933 – September 12, 2013) was an American engineer and inventor of the noise reduction system known as Dolby NR. He helped develop the video tape recorder while at Ampex and was the founder of Dolby Laboratories.Tom Dowd (AES) 1925 - 2002 
In 1957, Dolby received his B.S. in electrical engineering from Stanford. He subsequently won a Marshall Scholarship for a Ph.D (1961) in physics from the University of Cambridge, where he was a Research Fellow at Pembroke College.
After Cambridge, Dolby acted as a technical advisor to the United Nations in India, until 1965 when he returned to England, where he founded Dolby Laboratories in London with a staff of four. In that same year, 1965, he officially invented the Dolby Sound System, a form of audio signal processing. His first U.S. patent was not filed until 1969, four years later. The filter was first used by Decca Records in the UK.
Dolby was a Fellow and past president of the Audio Engineering Society.
Tom Dowd (October 20, 1925 – October 27, 2002)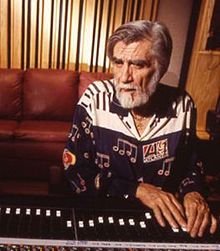 An American recording engineer and producer for Atlantic Records. He was credited with innovating the multitrack recording method. Dowd worked on a veritable "who's who" of recordings that encompassed blues, jazz, pop, rock and soul records.
Dowd took a job at a classical music recording studio until he obtained employment at Atlantic Records. His first hit was Eileen Barton's "If I Knew You Were Comin' I'd've Baked a Cake". He soon became a top recording engineer there and recorded popular artists such as Ray Charles, the Drifters, the Coasters, The Spinners, Ruth Brown and Bobby Darin, including Darin's famous rendition of Kurt Weill/Bertolt Brecht's "Mack the Knife". He captured jazz masterpieces by John Coltrane, Ornette Coleman, Thelonious Monk and Charlie Parker. It was Dowd's idea to cut Ray Charles' recording of "What'd I Say" into two parts and release them as the A-side and B-side of the same single record.
Dowd worked as an engineer and producer from the 1940s until the beginning of the 21st century. While working for Atlantic Records, he lived in Westwood, NJ with his wife Jackie and his sons, Steven and Theodore. He recorded albums by many artists including Eric Clapton, Lynyrd Skynyrd, Derek and the Dominos, Rod Stewart, Wishbone Ash, New Model Army, Cream, Lulu, Chicago, the Allman Brothers Band, Joe Bonamassa, the J. Geils Band, Meat Loaf, Sonny & Cher, the Rascals, The Spinners, Willie Nelson, Diana Ross, Eagles, the Four Seasons, Kenny Loggins, James Gang, Dusty Springfield, Eddie Harris, Charles Mingus, Herbie Mann, Booker T. & the M.G.'s, Otis Redding, Aretha Franklin, Joe Castro and Primal Scream.[3] He was also an employee of Apex Studios in the 1950s.Dowd received a Grammy Trustees Award for his lifetime achievements in February 2002.
He died of emphysema on October 27, 2002, in Florida, where he had been living and working at Criteria Studios for many years.
Thomas Alva Edison
Geoff Emerick 
Geoff Emerick, the audio engineer who worked on several Beatles classics including Sgt. Pepper's and Abbey Road, died Tuesday. Emerick's agent, David Maida, confirmed the engineer's death to Rolling Stone, adding that the cause of death was a heart attack. He was 72.
Emerick's manager, William Zabaleta, posted a video in which he said he was on the phone with Emerick when the engineer suddenly fell ill. Zabelta immediately called 911 but by the time an ambulance arrived it was too late. "Geoff suffered from heart problems for a long time," Zabaleta said. "He had a pacemaker and, you know, when it's your time, it's your time. We lost a legend and a best friend to me, and a mentor."
"I am so sorry and shocked to hear about Geoff Emerick," Ringo Starr said in a statement. "He was a great engineer, very helpful to all of us in the studio. With him and George Martin they helped us to step up on Revolver. He will be missed. Barbara and I send peace and our love to his family. Peace & love, Ringo xxx "
Dr. Kenneth Womack, the biographer for storied Beatles producer George Martin, shared a statement with Rolling Stone, saying, "Geoff Emerick was a groundbreaking engineer, particularly in terms of his eagerness to try anything and everything to meet his artists' expectations. He famously captured John Lennon sounding like the Dalai Lama on a mountaintop for Revolver's 'Tomorrow Never Knows,' later bringing the Beatles' career to a close in fine style on Abbey Road. Like his mentor, producer George Martin, Emerick was always laser-focused on getting the best out of the track that his artists presented. Working at that granular level, he proved himself to be the greatest engineer of his generation."
Emerick first worked with the Beatles in September 1962 when he was just 16 and had only started as an assistant at EMI Studios – later known as Abbey Road – the day before. Over the next few years, Emerick worked a variety of jobs at EMI – lacquer cutter, mastering engineer, balance engineer – and periodically helped out on early Beatles sessions that produced classics like "She Loves You" and "I Want to Hold Your Hand." Martin officially asked Emerick to serve as the Beatles' sound engineer in 1966, and the first track he helped cut was Revolver's "Tomorrow Never Knows."
George Martin's son Giles Martin tweeted Tuesday, "RIP [Emerick] one of finest and most innovative engineers to have graced a recording studio. I grew up with him as he worked so much with my father. We have all been touched by the sounds he helped create on the greatest music ever recorded."
Emerick also worked on Sgt. Pepper's – for which Emerick won the Grammy Award for Best Engineered Album, Non-Classical – and Abbey Road, though he famously resigned during the "White Album"sessions, claiming he could not handle the tensions between the band members; the engineer eventually rejoined the Beatles during the recording of "The Ballad of John and Yoko" and stayed on their final albums together. During his tenure at EMI, Emerick also served as engineer on the Zombies' classic Odessey & Oracle.
After the Beatles broke up, Emerick shifted from EMI to the band's Apple Corps., where he oversaw construction of Apple Studios in the label's Savile Row headquarters. As engineer, Emerick continued to work regularly with Paul McCartney and Wings, as well as an array of other artists including Elvis Costello (producer on 1982's Imperial Bedroom), Cheap Trick (engineer on the George Martin-produced 1980 LP All Shook Up), Jeff Beck and Kate Bush.
"We received very sad news today, old friend, Geoff Emerick, passed away," Wings' Denny Laine wrote on Facebook. "Our condolences to his family during this time. Geoff was a brilliant engineer and a fine man. He was enjoying his work and masterclasses around the country, connecting with the fans."
In 2006, Emerick penned his autobiography Here, There and Everywhere: My Life Recording the Music of the Beatles, a tome that caused controversy in the Beatles community for its unflattering view of the non-McCartney Beatles, with George Harrison especially cast in the harsh light. However, Emerick remained active on the Beatles nostalgia circuit, with the engineer lining up several speaking engagements this fall in anticipation of the 50th anniversary reissue of the "White Album."
Emerick spoke of his personal highlights working with the Beatles in a 2017 interview with Variety. "Revolver is a high point because of what it represented. It led to Pepper. And perhaps the greatest peak of all was the production of 'A Day in the Life' on Sgt. Pepper," Emerick said. "John first played an acoustic version of the song for George Martin, and I heard it and told a colleague, 'Wait until you hear this.' I still had the shivers. And the night we put the orchestra on it, the whole world went from black and white to color."
 JON BLISTEIN  &  DANIEL KREPS for the Rolling Stone

Emerick, who died Tuesday night at the age of 72, was a crucial collaborator in the Beatles' glory years, helping them find endless new ways to reinvent the way music sounded — and the way people around the world heard it. He's one of the few non-Beatle voices to appear on one of their records — you can hear him say "Take two" at the start of "Revolution 1," as John Lennon responds with a cheerful "okaaaay." (Actually, this might have been the most polite conversation these two had during the White Album sessions.) But he's buried deeper all over their music — for instance, the primal boom in Ringo's drums, the massive thump everyone else went mad trying to copy? A wool sweater, which Emerick stuffed into the drum during the sessions for "Tomorrow Never Knows."
Innovations like this endeared him to the band, who quickly came to depend on the wizardry of their teenage engineer, who they lovingly called "Ernie" or "Emeroids." He helped them blow minds with Revolver and Sgt. Pepper, even though he'd never tried a drug more psychedelic than lager. He was a creative spirit who threw himself into the try-anything improv ethos of the Beatle sessions. As he put it in his 2006 memoir Here, There and Everywhere, 'Whereas Paul might say, 'This song needs brass and timpani,' John's direction might be more like 'Give me the feel of James Dean gunning his motorcycle down a highway.' Or 'Make me sound like the Dalai Lama chanting on a mountaintop.'"
That last one was John's command at the session for "Tomorrow Never Knows" — Emerick's first day on the job as engineer. Talk about getting thrown into the deep end — yet he came up with tricks that helped bring John's vision to life. At another session, John presented Emerick and Martin with an impossible task: edit two different versions of "Strawberry Fields Forever" into one song. As Martin tried to explain why it couldn't be done, John walked out with the simple words: "You can do it." His faith was well-placed. After hearing Emerick's delicate tape splice, John crowed, "Good on yer, Geoffrey!" As McCartney sang on Revolver, this kid had "another kind of mind there."
Emerick came to work at EMI Studios when he was just 15, as a humble assistant tape op on the sessions for "Please Please Me," "She Loves You," "This Boy" and "I Want To Hold Your Hand." But after the Beatles stretched out on their December 1965 album Rubber Soul, even breaking all taboos by staying in the studio working after midnight, their engineer Norman Smith ("Normal" to the lads) decided this music was getting too far out for him, so he handed over the gig to the new kid. Emerick was made for this job. His youthful enthusiasm could keep up with theirs. As he wrote, "We knew that the word 'no' didn't exist in the Beatles' vocabulary."
Emerick notoriously walked out on the White Album after one too many versions of "Ob-La-Di, Ob-La-Da." It's ironic that there's so much creativity and camaraderie on the splendid new White Album reissue, to be released November 9th, which has hours of previously unheard studio sessions and demos. The whole White Album box set is a magnificent tribute to the Beatles as a team, forever shattering the myth that it was the four Beatles working solo. But making it drove the band — and everyone else in Abbey Road — to the edge of madness. Emerick broke down from the retakes and all-nighters and arguments. Yet the White Album package contains some of the greatest music he ever worked on — even if it remained one of his most miserable memories for the rest of his life.
McCartney wooed him back for Abbey Road, a much mellower experience. "Quite muted," Emerick recalled. "Everyone seemed to be walking on eggshells, trying not to offend." As McCartney put it later, "It was nice to return home, to something we knew and understood: George Martin, Abbey Road Studios, songs done quite quickly … not too much heavy breathing." The band joked about calling the album Everest, after the cigarette brand Emerick smoked in the studio. ("His ciggies were just lying on the control room desk, and we went, 'What about that? Everest!') They even bantered about traveling to Mount Everest to shoot the cover photo, until they contemplated the prospect of having to spend that much time together. Finally, Ringo said, "Fuck it; let's just step outside and name it Abbey Road."
In the Seventies and Eighties, Emerick became famed for his old-school approach; Elvis Costello called him "the last of the blacksmiths." He produced Costello's 1982 opus Imperial Bedroom, laying on the studio frippery as if in response to the stripped-down Nick Lowe production on Costello's previous records. He also worked on many of McCartney's finest post-Beatles records, including gems like 1973's Band on the Run and 1997's Flaming Pie. He engineered the Zombies' 1967 classic Odessey and Oracle, including "Time of the Season," going for the same Pet Sounds-inspired precision ("a really clean American sound") Paul requested for "Penny Lane." He did the honors on hits like Stealers Wheel's "Stuck in the Middle With You" and Manfred Mann's "Pretty Flamingo," along with albums by Seventies troopers from Mahavishnu Orchestra to Robin Trower to Cheap Trick. In 1975, he engineered a demo David Gilmour was producing for a shy 16-year-old schoolgirl, terrified at her first time in a studio, a song she wrote called "The Man With The Child In His Eyes." Her name? Kate Bush."
Here, There and Everywhere also stands as one of the best and funniest books about the Fabs. The best story: the night John storms into the White Album sessions and yells, "I am fucking stoned! I am more stoned than you have ever been! In fact, I am more stoned than you will ever be! And this is how the fucking song should go!" Then he bangs out the piano intro to "Ob-La-Di, Ob-La-Da." Paul is pissed — but he's no fool, and he knows a damn good idea when he hears one. So they try it with John's piano intro — and that's the version we all know and love from the White Album. No wonder Emerick found it traumatizing to listen to.
It's the book of a guy who spent countless hours with the Beatles, but never saw them outside work, so he doesn't pretend to know or care a thing about their private lives. He's mostly interested in technical details, the kind of lore Beatle freaks live for. How did Paul get that bass sound on "With A Little Help From My Friends"? (He sat in the control room, watching the monitors, with an extra-long lead connected to his amp on the floor of Studio Two.) How many hours did George spend trying to nail the "Taxman" guitar solo? (Two. Then Paul stepped in and got it in one or two takes.) Why is John chewing gum as he sings "All You Need Is Love"? (He just forgot it was there.) Yet the whole book is candid, irreverent, unsentimental, poignant, not to mention hilarious.
"It was always a matter of capturing the moment," he says at the end of the 10-week Revolver sessions. "Exhausting as it was, both mentally and physically, it was a good way to work — really, the only way to work." That work — the Beatles, their producer and their engineer on fire with new idea — changed the world.
ROB SHEFFIELD for the Rolling Stone
"Paul McCartney paid tribute to the humor, work ethic and fearlessness of late audio engineer Geoff Emerick, who died Tuesday from a heart attack at age 72. Emerick worked on some of the Beatles' most revered albums, including Revolver, Sgt. Pepper's Lonely Hearts Club Band and Abbey Road. "I'll always remember him with great fondness, and I know his work will be long remembered by connoisseurs of sound," McCartney wrote on his website. 
The pioneering engineer first worked with the Beatles in September 1962 at age 16 as an assistant at EMI Studios (later known as Abbey Road). Four years later, he graduated to the band's sound engineer, starting with Revolver, helping them pursue radical musical ideas through experimental techniques.
McCartney acknowledged Emerick's famous curiosity. "He had a sense of humour that fitted well with our attitude to work in the studio and was always open to the many new ideas that we threw at him. He grew to understand what we liked to hear and developed all sorts of techniques to achieve this. He would use a special microphone for the bass drum and played it strategically to achieve the sound that we asked him for. We spent many exciting hours in the studio and he never failed to come up with the goods."
The former Beatle also worked with Emerick in Lagos, Nigeria on his 1973 LP, Band on the Run. "I remember arriving at the half built studio with a handful of 45s, which I played for him to explain what direction I wanted to take on this particular album," McCartney wrote. "I remember asking him to make sure that the tracks had a lot of space, and he was happy to deliver that."
The pair remained friends over the years, and McCartney wrote that the engineer even visited during sessions for his latest album, Egypt Station. "He was his usual cheerful friendly self and gave me the thumbs up to the mixes we played him," the bassist added.
"Lots of love, Geoff," McCartney added to close the note. "It was a privilege to know you."
Ringo Starr, who worked with Emerick to achieve many influential drum sounds on the Beatles' records, recognized the engineer in his own recent statement.
"I am so sorry and shocked to hear about Geoff Emerick," the drummer wrote. "He was a great engineer, very helpful to all of us in the studio. With him and George Martin they helped us to step up on Revolver. He will be missed. Barbara and I send peace and our love to his family. Peace & love, Ringo xxx" 
RYAN REED for the Rolling Stone
Grover "Jeep" Harned   1930 - 2003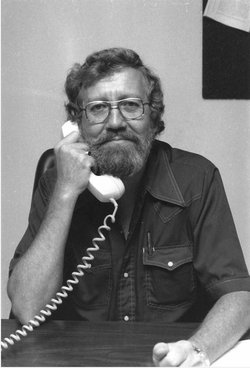 Grover C. Harned, who built a Fort Lauderdale hi-fi and record shop into a leading manufacturer of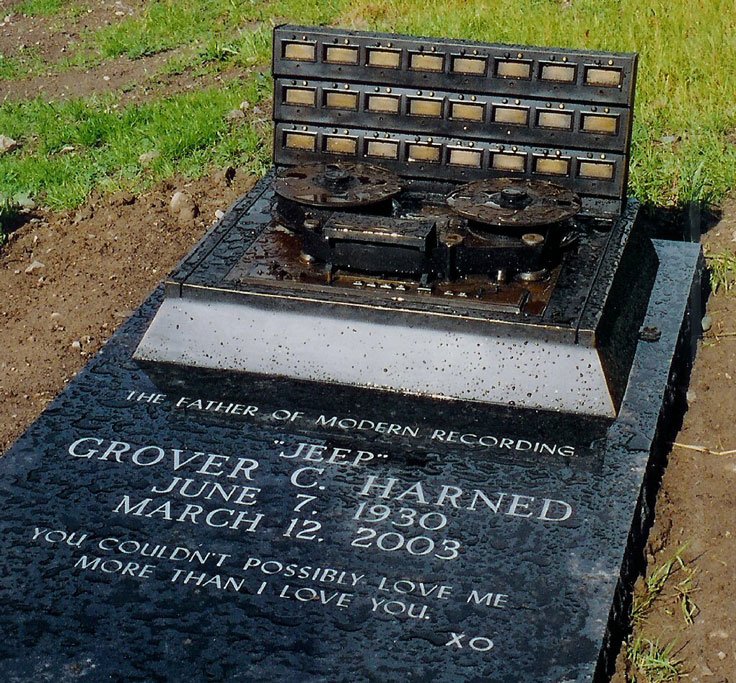 multi-track recording gear and helped usher in the era of professional audio, died of pneumonia on March 13 at a hospital near his home in Durango, Colo., his family said. He was 72.
Tulsa, Okla., native Mr. Harned, known since childhood to friends and family as "Jeep," was a trained engineer with a talent for tinkering and constructing new electronic devices out of existing parts. He built sound recording consoles by hand at a storefront on Sunrise Boulevard that he opened with his first wife, Joyce Sutton Harned, in 1955. An early and regular client at the Harneds' Music Center Inc., was Mack Emerman, founder of Criteria Recording Studios in North Miami.
Harned-made equipment would become must-have in some of the world's most prestigious sound rooms: Criteria; Mastersound in Atlanta; and Fame Studios in Muscle Shoals, Ala. It also was used to capture milestone recordings such as James Brown's I Feel Good (1966) and Aretha Franklin's Respect (1967).
Mr. Harned went on to develop new techniques for assembling circuitry that modernized the manufacture of recording equipment. Those advances also transformed his storefront into MCI Corp. -- no relation to the phone company -- a global business with 300,000 square feet of factory floor space along West Commercial Boulevard.
"He was the first guy to build something that rolled off an assembly line," said Fort Lauderdale writer, musician and audiophile Dan Daley. "He began the industrialization of audio."
Mr. Harned ran a prosperous company with a resolutely casual dress code, said second wife Carla Kachigian Harned, who began working at MCI as a receptionist in 1970. She described her husband as someone who could design a product as well as the business plan to sell it, work the assembly line when needed, or fix the factory's sprinkler system by himself.
March 29, 2003 By Sean Piccoli Pop Music Writer, Sun Ssentinel
Julian Hirsch  1922 - 2003
Hirsch discovered amateur radio at the age of 14 and was soon building his own equipment. He received a Bachelor's degree in Electrical Engineering from The Cooper Union in 1943 and served in the Army Signal Corps during World War II. In 1954, Hirsch and several other engineers started testing commercial audio components to see how well they met their performance claims, and they began a subscription-based newsletter, the Audio League Report, where they published the results.
In 1957, Hirsch and Gladden Houck, who also worked on the Audio League Report, formed Hirsch-Houck Laboratories, where they continued testing audio equipment such as turntables, receivers, and speakers, and sold the data to various publications. In 1960, Ziff-Davis Publishing bought out Gladden Houck and Hirsch began providing test data exclusively for its publications, although the lab continued to be called Hirsch-Houck Laboratories. Hirsch first tested gear for Popular Electronics, then, in October 1961, for Hi-Fi/Stereo Review, which was later renamed Stereo Review. He also began writing the monthly column "Technical Talk." Hirsch estimated that he wrote about 4,000 laboratory test reports for various publications, 2,400 of those at Stereo Review, by the time he retired in 1998.[1] He remained an editor-at-large for Stereo Review, which merged with Video magazine, and in 2000 was renamed Sound & Vision.
Peter Paul Kellogg 1899 -1975 • Amplifier Corporation of America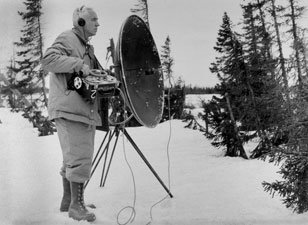 Peter Paul Kellogg helped design the first lightweight tape recorder built in North America, the Amplifier Corp. of America's Magnemite recorder.  It weighed less than 20 pounds; it went into commercial production in 1951.
Peter Paul Kellogg, professor emeritus of ornithology and bioacoustics, died of cancer in Houston, Texas, on January 31, 1975. Born in Wilkes Barre, Pennsylvania, he moved to Rochester, New York, at the age of four. When he was fourteen, he le school and worked, successively, in a shoe factory, as a Western Union messenger, and as a meat-market clerk. At the age of twenty-two he returned to high school to prepare for college, supporting himself during this period with a full-time job in a coal-gas plant at night. He entered Cornell in 1925 and received his B.S. degree in 1929, at the age of thirty. He promptly enrolled as a graduate student in ornithology under Arthur A. Allen, and received his Ph.D. degree in 1938. Having held the position of instructor in ornithology during his graduate years, he was appointed an assistant professor as soon as he completed his doctorate in 1938. He was promoted to the rank of associate professor in 1946, and was named a full professor in 1953. He o cially retired from Cornell with emeritus status in 1966, though in recent years he taught ornithology courses in Cornell's summer Alumni University.
Professor Kellogg was best known for his work in recording and analyzing bird songs and other natural sounds. Not content merely to use established techniques in his work, he devoted much of his e ort to developing better equipment for eld work in bioacoustics. For example, he and a student, Peter Keane, developed in 1932 in the basement of McGraw Hall the rst parabolic re ector for use in the eld recording of natural sounds, a er having seen a photograph of a re ector being used in a theater to catch the voices of the actors on stage. Later he worked with N. M. Haynes of the Ampli er Corporation of America in the development of the rst commercially produced eld tape recorder, which was marketed in 1951. is tape recorder was promptly adopted by most investigators in natural history recording and thus greatly expanded the possibilities for work in this area of biology.
Dr. Kellogg participated in several important expeditions for the purpose of recording bird songs. To mention only a few of these, he and Dr. Allen visited many parts of the United States in 1935 to record the voices of species of birds that were threatened with extinction. In 1939 he and Allen made a trip to the Paci c Coast and to Arizona to record birds. In 1961 he participated in an expedition to the Orinoco Basin in eastern Venezuela. At various other times he made eld trips to East Africa, Mexico, and the Caribbean.
During World War II Dr. Kellogg temporarily le Cornell, rst to organize and direct a radar school for the
Western Electric Company and later to investigate acoustical problems of jungles for the U.S. Army. e latter
work was carried out in Panama in 1944-45.
Cornell University Faculty Memorial Statement http://ecommons.library.cornell.edu/handle/1813/17813
rough the joint e orts of Professors Allen and Kellogg, Cornell became known as one of the principal centers for ornithological education and research in the United States. ese two men were especially concerned with the importance of disseminating ornithological knowledge to the interested public at a time when the great stress on conservation education that we know today did not yet exist. is interest of theirs led in 1955 to the establishment of the Cornell Laboratory of Ornithology, with Professors Allen and Kellogg o cially recognized as cofounders. A new building for the laboratory was erected and a sanctuary established in the Sapsucker Woods area, a few miles northeast of the main campus. e facility was dedicated in 1957. Dr. Kellogg became a life member of the Administrative Board of the Laboratory of Ornithology, and he also served until his retirement as assistant director of the laboratory.
One of Dr. Kellogg's principal activities in the laboratory was the establishment of the Library of Natural Sounds, which today includes recordings of songs or calls of about one-quarter of the world's species of birds, as well as recordings of amphibians and other animals. is facility is used not only by Cornell students and faculty but also by investigators at many other institutions.
e rst published phonograph record of wild bird songs was produced at Cornell by Albert R. Brand in 1932, while Kellogg was a graduate student. Dr. Kellogg became very much interested in the production of such records, and over the years he produced a succession of recordings including "American Bird Songs," "Voices of the Night," "Bird Songs in Your Garden," "Dawn in a Duck Blind," and "Field Guide to Bird Songs," which accompanied Peterson's well-known Field Guide to Birds. ese recordings became very widely known and contributed substantially to Cornell's reputation in ornithology. Proceeds from their sale became a major source of nancial support to the Laboratory of Ornithology. ere is every indication that their popularity with the public and their importance to the laboratory will continue for many years to come.
For nearly thirty years Dr. Kellogg's voice was familiar to radio listeners throughout the Finger Lakes Region through his production of the weekly program "Know Your Birds" on WHCU. is program will celebrate its fortieth anniversary in the fall of 1975. It is the longest continuously running radio program in the United States. e interest in ornithology and in conservation that it will surely continue to generate will serve as a memorial to Dr. Kellogg's many contributions to the study of birds.
Douglas Lancaster, W. T. Keeton        more info
Stefan Kudelski 1929 - 2013 Nagra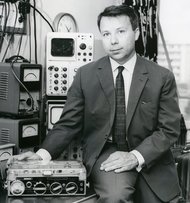 Stefan Kudelski, the inventor of the first professional-quality portable tape recorder, which revolutionized Hollywood moviemaking and vastly expanded the reach of documentarians, independent filmmakers and eavesdroppers on both sides in the cold war, died on Saturday in Switzerland. He was 83.
The Polish-born Mr. Kudelski was an engineering student at a Swiss university in 1951 when he patented his first portable recording device, the Nagra I, a reel-to-reel tape recorder, about the size of a shoe box and weighing 11 pounds, that produced sound as good as that of most studio recorders, which were phone-booth-size. Radio stations in Switzerland were his first customers.
The bigger breakthrough came seven years later, when Mr. Kudelski introduced a high-quality tape recorder that could synchronize sound with the frames on a reel of film. Mr. Kudelski's 1958 recorder, the Nagra III, weighed about 14 pounds and freed a new generation of filmmakers from the conventions and high cost of studio production.
Along with the newly developed portable 16-millimeter camera, the Nagra recorder became an essential tool for the on-location, often improvisational techniques of New Wave directors like François Truffaut and Jean-Luc Godard, and American documentarians like D. A. Pennebaker, who used the Nagra to record the 1965 Bob Dylan tour featured in his classic film "Don't Look Back," released in 1967.
In various interviews, Mr. Pennebaker, Mr. Godard and Mr. Truffaut have all credited Mr. Kudelski with helping to make possible the informality and journalistic realism of their work.
Mr. Kudelski received Academy Awards for his technical contributions to filmmaking in 1965, 1977, 1978 and 1990, and Emmy Awards in 1984 and 1986.
In the 1960s, Mr. Kudelski's firm also began making miniature recorders for what its online catalog calls "surveillance and security" work. The first of these pocket-size machines was the SN "Serie Noire," which the company's Web site boasts was "originally ordered by President J F Kennedy for the American secret services."
The collection of bugging devices on display at the International Spy Museum in Washington, a privately financed archive run by former C.I.A. employees, includes a Nagra recorder obtained in the 1980s from Stasi, the East German internal security agency.
The Nagra's value to customers like those was generally classified. But it received acclaim by consensus from professionals in the radio, television and film industries. By the early 1960s, Nagras were the standard recording equipment in all three industries. They remained dominant until the advent of digital audio recorders in the 1990s. The company now makes digital recorders, as well as some analog tape devices, but does not rule the market as it once did.
"There was virtually no film made from 1961 until the early '90s that did not use the Nagra," Chris Newman, an Academy Award-winning sound engineer, said on Wednesday. Mr. Newman used the machine in winning Oscars for "The Exorcist" (1973), "Amadeus" (1984) and "The English Patient" (1996). He also used one in making a celebrated 1971 action thriller, "The French Connection."
"We would not have the movies we have today without it," Mr. Newman said.
Stefan Kudelski was born on Feb. 27, 1929, in Warsaw. He escaped Poland with his family at the start of World War II and settled in Switzerland later. After earning a degree in physics and engineering, he began his company as an engineering design firm. It has since become a major Swiss manufacturer of media and security equipment.
His son André succeeded him as chief executive and chairman in 1991. In addition to André, he is survived by four other children, Isabelle, Marguerite, Henri and Irène Kudelski. His wife, Ewa, died in 2000.
Mr. Kudelski's tape recorders were carried on several expeditions to Mount Everest. In 1960, the Swiss oceanographer Jacques Piccard took a Nagra aboard his deep-sea research submarine, Trieste, to record his impressions as he descended to 37,800 feet below the surface of the Pacific off Guam. It remains the deepest known place on the Earth's ocean floor.
Leo de Gar Kulka  1921 - 1998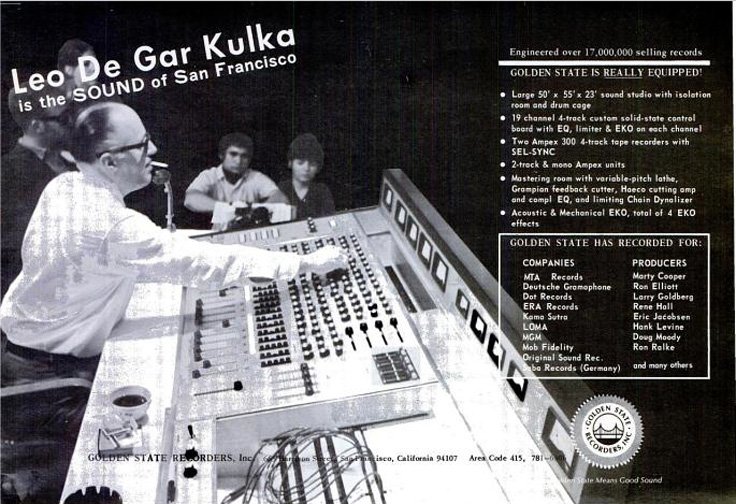 Leo De Gar Kulka (a.k.a."The Baron") migrated from L.A. to San Francisco in 1964 to open Golden State Recorders at 665 Harrison Street between 2nd and 3rd Streets, a gritty area at the time, now a mix of modern lofts, fancy restaurants, and the Giants' home, AT&T Park.
The Czech-born Kulka was new to the Bay area when he first started recording bands for Autumn Records. All through the 50's and early 60's he's worked at L.A. studios-first at Radio Recorders, then at his own facility, International Recorders, where he cut tracks with such artists as Frank Sinatra, Nat King Cole, Little Richard, Herb Albert, Sam Cooke and many others. A classic example of the "mom and pop" studio, Leo Kulka ran the studio and engineered most of the sessions. He employed a small staff, including band office manager/bookkeeper, one staff engineer, and an assistant engineer. On busier days, his wife came in to help out. 
For the first few years, that small group ran one of the few music recording studios in town with a recording room comparable in size to established L.A. and New York facilities. The studio area was at least 50×50 feet, with high ceilings, a vocal booth, and the requisite gobos to break up the square footage during a session. "At the time it was a good room; a big box, really," George Horn describes 
it bluntly. "One of the advantages of [the room's size] was you could record a broad variety of music," adds Vance Frost, who worked as an assistant engineer at Golden State in 1968. He returned in 1971 to serve as its lead engineer and manager until 1976. "We'd do large-scale recordings, like big bands, a few orchestral dates, and 30- to 60-voice gospel choirs." Golden State had the size but it lacked the pristine quality of certain major market studios—which is just why a lot of clients liked it. Reflecting the no-nonsense attitude of its owner, Golden State felt lived in and unpretentious. It didn't have much in the way of décor—no colored lights, no dimmer switches. You had two options: lights on, lights off —all or nothing. Kulka did add a few switches later so clients could at least control which lights turned on and off. He had a Neumann mastering room at Golden State as well, along with a custom 4-bus console built by staff engineer Mike Larner. This was later expanded to 8-bus. 
A live echo chamber, accessed by walking through the electrical shop behind the control room and climbing up a ladder and through a porthole, added character—and still more reverb—to an already live room. In addition to the handmade gear, Golden State offered an Ampex Model 200 (the first model issued by the Bay Area–based company), brought by Kulka from L.A., as well as a couple of AG440 mono 2- and 4-track machines and at least one Ampex 350 reel-to-reel recorder. All great machines, but Kulka was slow to upgrade: When 16-track became available in the late 1960s, Golden State hung back at four. 
In its early years, Golden State, and Kulka's engineering skills, appealed mostly to a niche of respected soul and blues artists, including Rene Hall and Wally Cox. Both of these artists already had a few decades of experience under their belts when they recorded with Kulka at Golden State. Kulka also signed some of these acts himself, either leasing sides to outside labels such as MTA and Acta or issuing singles through his Golden Soul imprint. Much of this material remained unreleased until decades later, when the public discovered his recordings from San Francisco TKOs, The Savonics,The Spyders, Jeanette Jones, and The Generation (featuring Lydia Pense, later of Cold Blood).
The studio also attracted a few L.A.–based artists and producers and a solid cast of local musicians, such as the Beau Brummels, Sons of Champlin, Big Brother & the Holding Company, The Charlatans, and a slew of obscure acts. Some achieved later success, while others—such as the C.A. Quintet (oddly, from Minneapolis, but they recorded their first and only album at Golden State)remained relatively unknown. 
The same year Golden State opened its doors, the Beau Brummels recorded Introducing the Beau Brummels for Autumn Records with producers Bobby Mitchell and Sylvester Stewart (a.k.a. the infamous Sly Stone), which included their first hit, "Laugh Laugh." 
In 1965, label co-owners Tom Donahue and Mitchell brought in another one of their acts: an odd blues- and R&B-influenced rock band called The Warlocks. Half a year earlier, they had been 
an anarchic acoustic group called Mother McCree's Uptown Jug Champions. In one day at Golden State, they recorded six songs— four originals, one traditional, and a cover of Gordon Lightfoot's "Early Morning Rain"—none of which were ever released until a box set 30 years later. With Kulka at the board, they recorded under the name The Emergency Crew, reportedly because bassist Phil Lesh had spotted an album in a record store by another group called The Warlocks. Soon after, they permanently changed their name to the Grateful Dead, putting an end to any risk of band name infringement. 
They brought many other groups to Golden State to record under the Autumn Records banner, often with the help of Stewart, their secret weapon. In addition to the Beau Brummels, Stewart produced Bobby Freeman's hit "C'mon and Swim" and other cuts for the Mojo Men, The Vejtables, and the Great Society. This last group was the launching pad for future Jefferson Airplane siren Grace Slick. 
In 1969, producer Elliot Mazer came by to finish a portion of Nick Gravenites' album, My Labors, at Golden State. Much of the album came from the same sessions that produced Live at Bill Graham's Fillmore West by Michael Bloomfield (recorded with Kulka's remote truck).
Business began to slow at Golden State in the early 1970s as other facilities made their way into the city. The most notable of these was Wally Heider Recording. Musicians, fickle as they can be, wanted to record at the "in" studios with the "in" equipment, which put a dent in Golden State's business. 
Leo loved to experiment with new recording techniques, but he was a traditionalist at heart. He used a "back to basics" approach with his students. To the end, Leo waxed ecstatic over his Ampex model 200 (the first tape recorder produced in this country). And he may have been the last living audio engineer to edit tape without a splicing block or a razor blade. He'd lay a section of tape across his left hand, precisely lining it up with his thumb and finger, and using a small scissors, he made fast splices that always joined perfectly.
Harold W. Lindsay 1909 - 1982
Harold W. Lindsay was born in 1909 and was an excellent mechanical engineer. He had worked for both Shell Development Corporation and the Radiation Laboratory of the University of California (now the Lawrence Berkeley National Laboratory) prior to joining Litton Industries. His personal interests were in high-quality sound systems, including phonograph pickups, turntables, amplifiers, and loudspeakers. Harold was an absolute perfectionist in everything he did. Ampex's Alex poniatoff and Harold became very good friends. Early in 1946, Alex and Myron thought Harold would be an excellent person to join them in thinking of new product areas to consider. Harold—although still working for Dalmo Victor—was happy to help his friends.  
On May 16, 1946, Jack Mullin, an associate of Palmer Films in San Francisco, gave a demonstration of one of two German Magnetophons that he had brought back from Germany. His presentation was made at meeting of the Institute of Radio Engineers (IRE, now the IEEE) meeting in San Francisco. Harold Lindsay, Walt Selsted, Frank Lennert and John Leslie were all in attendance. Along with everyone else in the audience, we were overwhelmed by the wonderful sound quality.
Once the decision was made to go into the magnetic tape recorder business, a number of months went by as Alex, Myron, and Harold established a plan to make it happen. Harold was convinced that if he could be successful in making a playback head (he thought it would be more difficult than the record head), he could design the rest of the tape transport. In early fall, Alex hired Harold on a full-time basis to start the  head development. By December, 1946, Harold had constructed a playback head that could be interchanged with the one on the Magnetophon. He took it to Palmer Films. They first played a recording using the German head, and again with Harold's playback head. Everyone cheered—Harold's sounded better! 
Once the decision was made to go into the magnetic tape recorder business, a number of months went by as Alex, Myron, and Harold established a plan to make it happen. Harold was convinced that if he could be successful in making a playback head (he thought it would be more difficult than the record head), he could design the rest of the tape transport. In early fall, Alex hired Harold on a full-time basis to start the  head development. By December, 1946, Harold had constructed a playback head that could be interchanged with the one on the Magnetophon. He took it to Palmer Films. They first played a recording using the German head, and again with Harold's playback head. Everyone cheered—Harold's sounded better! 
Harold's and Myron's progress was rapid, and by  October 1, 1947, they had a prototype that resembled the eventual Ampex Model 200A. It worked very well when playing back Magnetophon recorded tapes but it had a problem making its own recordings. Despite that minor setback, Jack Mullin encouraged them to take the prototype to Los Angeles and set it up in Bing Crosby's studio at the American Broadcasting Company (ABC) at Sunset and Vine in Hollywood. Jack thought it would be a perfect time to demonstrate the Ampex machine to Bing and his associates because this was the first night of the 1947—1948 Season, and Jack could play back a portion of the first night's recording prior to air time. The recording had been made on one of the two Magnetophons that Jack was using to record Bing's radio shows. Jack played it on the Model 200A prototype and everyone was very impressed. Fortunately, no one asked Jack to record anything. Bing Crosby knew that it was imperative for him to have his shows recorded in such a way that no one would be able to tell that his show wasn't live.
Crosby placed an order for 20 recorders at $4,000 each with a 60 percent down payment; he wanted them as soon as he could get them. In this way, Bing helped finance Ampex's first production-run of 20 recorders. 
Excerpted from History of The Early Days of Ampex Corporation   As recalled by JOHN LESLIE and ROSS SNYDER 
Saul B. Marantz  (July 11, 1911 – January 17, 1997)
Saul Marantz was an American musician, inventor and engineer who founded audio manufacturer Marantz in 1948. He was fascinated by electronics from his boyhood days.
The first Marantz audio product was designed and built by Saul Marantz in his home in Kew Gardens, New York. The company had a major influence in the development of high fidelity audio systems, and reached the high point of their success in the mid to late 1970s.
In 1964, Marantz was acquired by Superscope Inc. In1966 Beginning with the Model 25, and then 22 and 28, Marantz starts manufacturing its products in Japan through a partnership with Standard Radio Corp. In 1975 Standard Radio Corp. changes its name to Marantz Japan Inc.
After the sale to Superscope, Marantz stayed as president until 1968 and then retired -- briefly.
In 1972, he co-founded the Dahlquist Company, a maker of high-quality loudspeakers, serving as president until his second retirement in 1978.
During the 1980s, while owned by Philips, a pioneer in compact disc technology, Marantz built some very well received CD players, but other products in the line were not as successful as in the past. Beginning in the early 1990s, Marantz focused on higher-end components. In 2001, Marantz Japan acquired the brand from Philips and owned all overseas sales subsidiaries.
Sir George Martin 3 January 1926 – 8 March 2016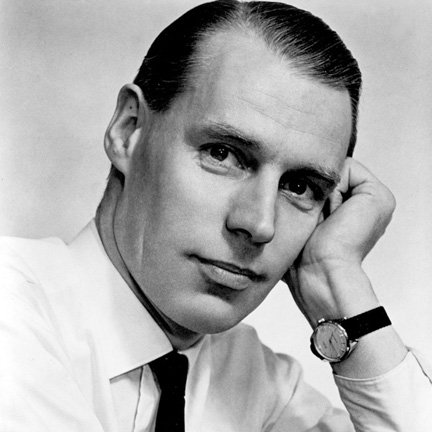 An English record producer, arranger, composer, conductor, audio engineer and musician. He is sometimes referred to as "the Fifth Beatle" in reference to his extensive involvement on each of the Beatles' original albums. Martin had 30 number-one hit singles in the United Kingdom and 23 number-one hits in the United States.
He attended the Guildhall School of Music and Drama from 1947 to 1950, studying piano and oboe. Following his graduation, he worked for the BBC's classical music department, then joined EMI in 1950. Martin produced comedy and novelty records in the early 1950s, working with Peter Sellers, Spike Milligan and Bernard Cribbins among others.
Martin's career spanned more than six decades of work in music, film, television and live performance. He also held a number of senior executive roles at media companies and contributed to a wide range of charitable causes, including his work for the Prince's Trust and the Caribbean island of Montserrat.
In recognition of his services to the music industry and popular culture, he was made a Knight Bachelor in 1996.
(from the BBC Entertainment News) - "Following the 1970 break-up of The Beatles, Martin worked with artists such as Sting, Jose Carreras, Celine Dion and Stan Getz, as well as Lennon and McCartney on their solo projects.
By then he had set up his own company, AIR studios, which enabled him, for the very first time, to be able to receive royalties for his work.
In the late 1970s, Martin built a studio on the Caribbean island of Montserrat, and artists including Dire Straits and The Rolling Stones travelled there to record albums under Martin's respected guidance.
When Hurricane Hugo devastated both island and studio in 1989, Martin produced a benefit album to help raise funds for the victims.
Martin received a knighthood in 1996, and a year later, Elton John asked him to produce the reworking of his song Candle in the Wind for the funeral of Diana, Princess of Wales.
He persuaded the singer just to sit down in the studio and record it exactly as he had played it in Westminster Abbey. The resulting single was Martin's 30th number one record, the highest of any musical producer.
He retired two years later after producing what he decreed would be his final album, In My Life, a collection of Beatles songs, rearranged and recorded by a collection of singers, film actors and musicians.
However, he was not able to completely relax. In 2002 he was part of the team which put together the Jubilee concert at Buckingham Palace and in 2006 he supervised the remixing of 80 Beatles tracks for use by Cirque de Soleil in a Las Vegas stage show called Love.
In his career, George Martin worked with some of the best-known names in popular music - ranging from Jeff Beck, through Ultravox to the Mahavishnu Orchestra.
But his enduring legacy will be his work with The Beatles whose timeless sounds, as acknowledged by the band members themselves, owe much to his input as a musician, arranger and producer ." BBC Entertainment News more
Nozomu Matsumoto - 1905–1988 • founder Pioneer Electronics
Nozomu Matsumoto founded Pioneer as an audio products manufacturer in 1938, making speakers in his garage.
Nozomu Matsumoto - 1905–1988) was a Japanese businessman who was the founder of the Pioneer Corporation. He was born in Kobe, Japan in 1905, the son of a Christian missionary.
In 1936, he founded the Fukuin Shokai Denki Seisakusho company in Osaka, whose name roughly translates to "Blessed Sound Electric Company" or "Gospel Electric Company", owing to Matsumoto's Christian faith and belief that his electronic products could help in missionary works.
In 1937 he created the A-8 speaker which he christened 'Pioneer'.
Matsumoto relocated to Tokyo in 1938 and started a small factory which repaired radios and speakers. After the war the company expanded rapidly and in 1961 the name was changed to Pioneer Electronic Corporation, and it was listed on the Tokyo Stock Exchange.
In 1966, Pioneer which was created 30 years ago, created Pioneer Electronics USA Corp at 350 Fifth Ave NY and will continue
marketing its car stereo players through Craig-Panorama
Pioneer opened its first office in the United States in the Empire State Building in 1972.
Matsumoto died in 1988 at the age of 83.
Konosuke Matsushita  1895 - 1989 founder Panasonic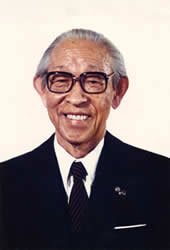 Panasonic was founded in 1918 by Konosuke Matsushita first selling duplex lamp sockets. In 1927, it produced a bicycle lamp, the first product it marketed under the brand name National. It operated factories in Japan and other parts of Asia through the end of World War II, producing electrical components and appliances such as light fixtures, motors, and electric irons.
In post-war Japan, the company came under severe restrictions imposed on large Japanese companies by the Allies. Matsushita was in danger of removal as president, but was saved by a favorable petition signed by 15,000 employees.
After World War II, Panasonic regrouped and began to supply the post war boom in Japan with radios and appliances, as well as bicycles.
Matsushita's brother-in-law, Toshio Iue founded Sanyo as a subcontractor for components after WWII. Sanyo grew to become a competitor to Panasonic, but the rivalry settled down and Sanyo eventually became a subsidiary of Panasonic in December 2009.
Since 1954, Matsushita also gained a significant share holding in manufacturer JVC by forming an alliance. It still retains a 50% share today.
In 1961, Konosuke Matsushita traveled to the United States and met with American dealers. Panasonic began producing television sets for the U.S. market under the Panasonic brand name.  To the left is the RS-1000 reel to reel tape recorder with speakers.
The company used the National trademark outside of North America during the 1950s through the 1970s. The trademark could not be used in the USA, probably because it was already in use by the National Radio Company who were operating in a closely related product area. The company debuted a hi-fidelity audio speaker in Japan in 1965 with the brand Technics. This line of high quality stereo components became worldwide favorites.
Matsushita retired in 1973. Chronic lung problems lead to his death from pneumonia on 27 April 1989, at the age of 94. He died with personal assets worth US$3 billion, and left a company with US $42 billion in revenue business.
Robert Gerson Metzner 
February 17,1917 - December 21, 2014
  We are saddened to learn about the passing of Robert G. Metzner on December 21, 2014.
 View his Son Richard's page about his Dad 

 February 11, 1917 - December 21, 2014 Entrepreneur, inventor and artist Robert Gerson Metzner died peacefully of natural causes on December 21, 2014 at home in Beverly Hills. Bob was born on February 11, 1917 in Detroit, Michigan. His father Abraham Metzner was a pediatrician. His mother Vera Pollasky Metzner was a nutritional specialist. The family moved to Los Angeles when he was 4. He soon became a technological prodigy building his first crystal radio at age 9 and obtaining a ham radio license and First Class Radio Telephone license at 16. Working in electronics to pay for his education, Bob earned a degree in electrical engineering at Caltech in 1938. 
He married his beloved wife Esther in 1940. With her help as his secretary until their children started arriving, his career spanned the growth of the audio industry and he played a significant role in it. He patented numerous inventions in many audio formats, disk and tape. His first successful company Pacific Sound made playback equipment for the army during WWII. 
In 1947 he founded Califone Corporation, which serves the needs of educators and other professionals by providing audiovisual recording and playback equipment for schools and industry. In addition, he began Roberts Recorders with Robert Craig, and formed one of the earliest successful partnerships between an American and Japanese (Akai) electronics company. His Metzner Starlight Turntable is still praised and collected by audiophiles. 
He retired from business at age 42, but was far from finished with inventing and creating. He had studied sculpting in his spare time and was now able to pursue a new career as a sculptor living in Beverly Hills. His works in cast iron, bronze, fiberglass and other media are on display at UCLA, Caltech and in private collections. While "retired" from business, 
Bob also patented the first modern gas/electric hybrid automobile in 1982 with Gerald Fields. When they presented a working prototype to the big three automakers in Detroit, they were told that the idea would never succeed. The Prius and other hybrids were introduced not long after their historic patent expired. Their prototype is now in the Petersen Automotive Museum in Los Angeles. 
Bob's favorite pastime for most of his adult life was sailing. He owned many boats and won innumerable prizes and trophies racing on the Pacific Ocean. As with all of the other activities mentioned above, he attributed much of his success on land and sea to his engineering training at Caltech. Unlike Thomas Edison, on whose 70th birthday he was born, Bob was an inventor and businessman whose family was an important part of his life. He and Esther were happily married for almost 75 years. In addition to Esther, he is survived by his two adult children: Richard Metzner (Judy Davenport) and Carolee Goldberg (Edward Goldberg), four grandchildren: Jeffrey Metzner (Elise DiCarlo), David Metzner (Ariane Metzner), Jamie Goldberg, and Katie Hemphill (Charles Hemphill), and nine great-grandchildren. 
Bob achieved all that he did and yet never stopped being a kind, humble, loving human being with a great sense of humor. 
Published in the Los Angeles Times on Dec. 24, 2014

Clarence C. Moore 1905 - 1979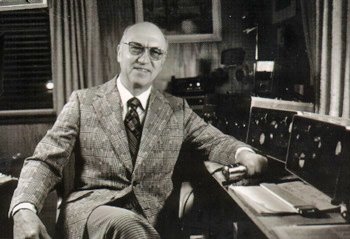 Crown's history traces back to 1947 and an Elkhart, Indiana minister named Clarence C. Moore. Moore, a longtime radio enthusiast, had spent the early part of the '40s in Quito, Ecuador working for HCJB, a non-profit Christian broadcasting and engineering group.
Following his return to the United States, he felt the desire to supply Christian broadcasters like HCJB with quality electronic products. As a result, Moore founded
International Radio and Electronics Corporation (IREC) in 1947 and converted a former chicken coop into the budding manufacturer's first production facility. The company's early reputation was built on a family of rugged and compact open-reel tape recorders designed to operate reliably when used by missionaries in remote, often-primitive regions of the world.
After modifying and distributing several existing models (Magnecord, Recordio, Pentron and Crestwood) for the first couple of years, Moore obtained a patent in 1949 for a ground breaking invention: the world's first tape recorder with a built-in power amplifier (15 watts).
Eventually, Moore's wife and co-founder, Ruby (deceased 2002), suggested that 'International Radio and Electronics Corporation' was too long a name for the company. Since IREC had by this point produced vacuum tube tape recorders branded 'Royal' and 'Imperial', in addition to the fact that the emblem on those products was a fancy crown, she felt that the company should simply be called Crown.
Her husband agreed, and, in the '60s, the company's name was changed to 'Crown International, a division of International Radio and Electronics Corporation'.
Over the years, state-of-the-art innovations have made Crown one of the most successful manufacturers in the marketplace. By 1963, solid state electronics development allowed Crown to produce a more robust tape recorder, and in 1964, their first solid state power amplifier: the low-profile SA 20-20. In the '60s, the introduction of the DC300 high-powered, solid-state amplifier offering 150 watts per channel at eight ohms and AB+B circuitry moved Crown into a leadership position in worldwide markets. Well over 30 years later, many DC300s are still faithfully being used in professional audio applications.
A fire destroyed 60% of the Crown facility on Thanksgiving Day 1971 and rendered much of the remaining building severely damaged. US$1 million of uninsured assets were lost. The plant was rebuilt, and D-60 amplifier production was brought back on line within six weeks.
Finally, in 1975, the stockholders voted to change the name of the corporation to Crown International, Inc. Acquired by Harman International in March of 2000, Crown has continued to move forward, producing numerous innovative designs.
In 2002, 55 years after Mr. Moore founded the company, Crown has more than 500 employees and over 1600 dealers worldwide.
Akio Morita 1921 -1991 Founder of Sony
Akio Morita Sony founder , Born January 26, 1921, Nagoya, Aichi – Died October 3, 1999, Tokyo
Sony found its beginning in the wake of World War II. In 1946, Masaru Ibuka started an electronics shop in a bomb-damaged department store building in Tokyo. The company had $530 in capital and a total of eight employees. ] The next year, he was joined by his colleague, Akio Morita, and they founded a company called Tokyo Tsushin Kogyo (Tokyo Telecommunications Engineering Corporation). The company built Japan's first tape recorder, called the Type-G. In 1958 the company name was changed to Sony
Sony remains one of the world's largest media conglomerates, with over 158,000 employees worldwide and revenues in excess of US $63 billion.
John T. (Jack) Mullin  (October 5, 1913 – June 24, 1999)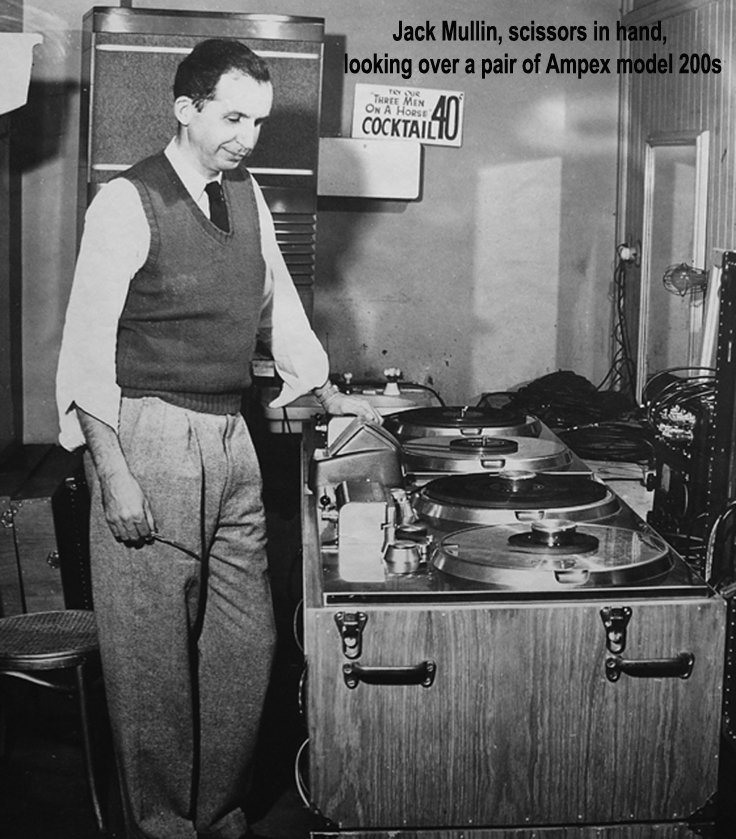 An American pioneer in the field of magnetic tape sound recording and made significant contributions to many other related fields. From his days at Santa Clara University to his death, he displayed a deep appreciation for classical music and an aptitude for electronics and engineering. When he died in 1999, he was buried with a rosary and a reel of magnetic tape. A 2006 documentary movie, Sound Man: WWII to MP3, was made about his life and contributions to sound recording.
After WW II , John "Jack" T. Mullin, who was in the US Army Signal Corp, brought back to the US, 2 German Magnetaphon reel to reel magnetic tape recorders. Mullin took the 2 Magnetophons apart and shipped them back to the US.
Following a number of demonstrations, Mullin attracted Bing Crosby's production folks. Crosby had been frustrated by the poor end quality of disc editing for his radio program. After Mullin demonstrated the ability to not only capture a great recording, but also to be able to edit the content with no loss of quality, the Crosby folks decided to adopt the technology.  Mullin eventually went to work for Crosby as his Chief Engineer, using the 2 Magnetophons and the 50 reels of German tape. He edited the Crosby shows splicing the various tape pieces together as Crosby and his producers directed. Crosby expressed concern regarding there being only 2 recorders and a limited supply of tape.  This eventually led to Crosby's backing of the Ampex company. Their first product was the Ampex 200A seen in the photo. 
Georg Neumann   1898 - August 30, 1976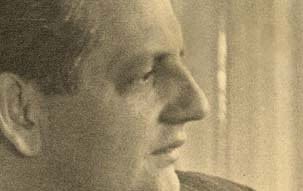 Georg Neumann GmbH (Neumann), founded in 1928 and based in Berlin, Germany,is a prominent manufacturer of professional recording microphones. Their best-known products are condenser microphones for broadcast, live and music production purposes. For several decades Neumann was also a leading manufacturer of cutting lathes for phonograph disks, and even ventured into the field of mixing desks for a while.
The company's original product was the CMV 3, the world's first commercially available condenser microphone. It was a rather large (40 cm tall, 9 cm diameter) microphone with several interchangeable capsule heads which gave it different directional patterns. Because of its shape and size, this microphone was often known as the "Neumann bottle". It is often seen in historical photographs of public events in Germany through the period of World War II.
Neumann's factory in Berlin was damaged by Allied firebombing in November, 1943. Georg Neumann relocated his company to the much smaller town of Gefell in Thuringia and resumed production at the beginning of the following year. At the close of the war, Thuringia fell under Soviet control and the company eventually became an East German "Publicly Owned Operation" (i.e. a state-run enterprise).
After the reunification of Germany, the company in Gefell, which had continued to use the Neumann name, became known as Microtech Gefell. Meanwhile, Georg Neumann re-established his company as "Georg Neumann GmbH" in one of the Allied sectors of Berlin and in 1949 began producing a new modelof switchable pattern microphone,the U 47, based on the M 7 capsule of the earlier CMV 3 series. This microphone was one of the first condenser microphones to gain widespread acceptance in the recording industry worldwide.
In the United States, for example, the "sound" of the best-known crooners of the 1940s (e.g. Bing Crosby and later Elvis Presley) had utilized the ultra-smooth, rolled-off tone of RCA ribbon microphones; pop recordings in the 1950s (e.g. Frank Sinatra and later The Beatles) on the other hand were sharper, clearer, much more "present" and more "hi-fi"-sounding as the result of using condenser microphones with elevated upper-mid-range response. The U 47, which wasdistributed worldwide under the Telefunken brand name, was also used for some early classical orchestral recordings in stereo.
At the end of the 1950s, the Telefunken VF 14 vacuum tube on which the circuitry of the U 47 and U 48 had been based, was discontinued, so Neumann came underpressure to develop a successor. They decided to offer all three of those two models' directional patterns in a single microphone. In the meantime, the rock 'n' roll era had begun and some engineers were recording loud vocals with singers singing directly into microphones at very close range; when the U 47 or U 48 were used in this way, the result was considered by many engineers at the time to sound unacceptably harsh. (This could be considered ironic, since the U 47 and U 48 have a cult following today specifically for use in close-up vocals, with some engineers seeming to fancy that they are re-creating a "vintage" sound—whereas in fact, they are creating a sound quality that was specifically abhorred by many of the "golden ears" of the era—notable exceptions being Beatles producer George Martin and engineers Norman Smith and Geoff Emerick.) The result was the U 67, a microphone with less emphasis in its upper midrange response, giving it less of a "forward" tone color.
In 1965 Neumann began to introduce solid-state microphones. The first model was the KTM small cardioid, later followed by the "fet 70" series—transistorized versions of small omnidirectional, cardioid and speech cardioid microphones as well as a "U 77" transistorized version of the U 67. This series used the 12-volt A-B powering system (parallel powering, T-power or "Tonaderspeisung") as found in Nagra tape recorders, and was therefore incompatible with existing studio power supplies. However, standard two-conductor shielded cables (as were commonly used for dynamic microphones) could now be used for connecting condenser microphonesas well, obviating the need for special multi-conductor cables.
In 1966 Neumann adapted the "phantom powering" method that had been used for years in certain telephone systems, so that a compatible method of powering would allow tube microphones, solid-state microphones and dynamic microphones all to be connected to the same power supplies. Eventually the "fet 80" series grew to include over a dozen models, some of which are still in production as of 2014—the U 87, U 89, KMR 81, KMR 82 and USM 69. The best-known models from this series were the KM 84 small diaphragm cardioid and the U 87 three-pattern, large diaphragm successor to the U 67.
Lou Ottens, Inventor Of The Cassette Tape
Lou Ottens, who put music lovers around the world on a path toward playlists and mixtapes by leading the invention of the first cassette tape, has died at age 94, according to media reports in the Netherlands. Ottens was a talented and influential engineer at Philips, where he also helped develop consumer compact discs.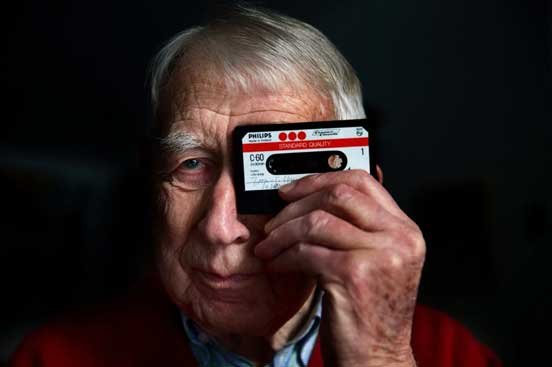 Ottens died Saturday, March 6, 2021 according to the Dutch news outlet NRC Handelsblad, which lists his age as 94.
The cassette tape was Ottens' answer to the large reel-to-reel tapes that provided high-quality sound but were seen as too clunky and expensive. He took on the challenge of shrinking tape technology in the early 1960s, when he became the head of new product development in Hasselt, Belgium, for the Dutch-based Philips technology company.
"Lou wanted music to be portable and accessible," says documentary filmmaker Zack Taylor, who spent days with Ottens for his film Cassette: A Documentary Mixtape.
Ottens' goal was to make something simple and affordable for anyone to use. As Taylor says, "He advocated for Philips to license this new format to other manufacturers for free, paving the way for cassettes to become a worldwide standard."
But first, he had to invent it. Trying to envision something that didn't yet exist, Ottens used a wooden block that was small and thin enough to fit in his pocket as the target for what the future of tape recording and playback should be.
The result was unveiled to the world in 1963, and the "compact cassette" quickly took off: It was "a sensation" from the start, Ottens told Time in 2013, on the cassette's 50th anniversary.
"Lou was an extraordinary man who loved technology, even as his inventions had humble beginnings," said Philips Museum Director Olga Coolen. She noted that Ottens' original wooden prototype for the cassette "was lost when Lou used it to prop up his jack while change a flat tire."
Born in 1926, Ottens went from building a radio for his family during World War II — it reportedly had a directional antenna so it could focus on radio signals despite Nazi jamming attempts — to developing technology that would democratize music.
"Cassettes taught us how to use our voice, even when the message came from someone else's songs, compiled painstakingly on a mixtape," Taylor said. Describing how little things have changed, he added, "So next time you make that perfect playlist on Spotify or send a link to share a song, you can thank Lou Ottens."
Ottens was famously unsentimental about the invention that has accounted for some 100 billion sales, according to NRC. In a career devoted to seeking higher fidelity and advancing technology, he dismissed tapes as primitive and prone to noise and distortion.
True to their do-it-yourself roots, cassette mixtapes have long been a favorite of punk and rock fans. But their legacy also looms large in hip-hop, where aspiring rappers and producers have used the approach to showcase their ability to chop up other music and create something new. The mixtape ethos has survived — and even thrived — despite the move from magnetic tapes to CDs and digital formats.
Nearly 20 years after Philips introduced cassette tapes, Ottens helped the company to develop compact disc technology for the consumer market and, with Sony, to settle on a format that would become the industry standard.
"From now on, the conventional record player is obsolete," Ottens declared when production CD players emerged, as the BBC reported.
Similar predictions were made about the cassette tape. But interest in the format has surged in recent years, despite the remaking of the music industry in the digital and streaming age.
The resurgence is driven by a mix of nostalgia and an appreciation for tapes' unique status as a tangible but flexible format. For decades, music fans have used mixtapes to curate and share their favorite songs. Unsigned bands have also relied on them as a way to promote their music.
Those who have used cassettes to quickly record music include the Rolling Stones' Keith Richards, who famously said he captured one of his band's biggest songs in the middle of the night.
"I wrote 'Satisfaction' in my sleep," Richards wrote in Life, his 2010 autobiography. Adding that he had no memory of writing the song, Richards said he woke up one morning to find that his Philips cassette recorder was at the end of its tape — apparently, he concluded, he had written something during the night.
When Richards rewound the tape, he heard the song's now-iconic guitar riff and his voice saying, "I can't get no satisfaction."
For many, cassettes have kept their cult status because they fulfill a dual promise of being both affordable and personal. They can hold anything from a carefully sequenced lineup of rare recordings to children putting on their own radio show.
"It's the most accessible, easiest, cheapest way for anyone to record a piece of audio," Matthew David of the Leaving Records music label told NPR back in 2011, when cassettes were enjoying a renaissance.
Cassette tapes have also become collectors' items. When Raekwon's solo debut, Only Built 4 Cuban Linx..., hit the market in 1995, for instance, it arrived in a rare purple-hued cassette tape that became a cultural touchstone and a hotly sought item.
Ottens' death follows a banner year for his invention. In 2020, a wide range of musicians found success selling cassette tapes, from Lady Gaga and Ozzy Osbourne to Selena Gomez and Gorillaz.
Coolen said the runaway success of Ottens' ideas surprised him.
" 'We knew it could become big but could have never imagined it would be a revolution,' " she quoted him as saying.  NPR
Rupert Neve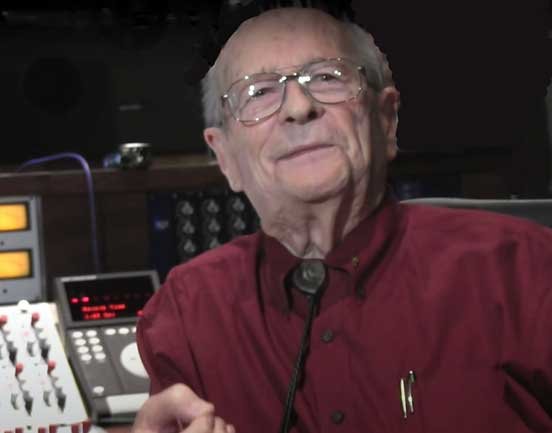 Wimberley, Texas, February 13, 2021 — Rupert Neve, an innovator and business owner whose analog audio equipment designs have become an essential component in music recording, live sound production and home hi-fi systems, died on February 12, 2021 in Wimberley, Texas, due to non-Covid pneumonia and heart failure. He was 94.
Mr. Rupert Neve's impact on the audio industry can hardly be overstated. It's no exaggeration to say that millions of people worldwide listen to music every day that was produced using equipment incorporating Rupert's designs somewhere in the process, from the vocal recording to the final mix, if not from beginning to end.
His designs, ranging from large-format mixing consoles to compact 500 series modules, are ubiquitous, and may be found anywhere from the largest production facilities to the most basic home studios. His audio hardware designs have also been reproduced as software plug-ins, making them available to anyone with access to a computer. 
Rupert and his wife, Evelyn, moved to Wimberley in late 1994 and became U.S. citizens in 2002. In 2005, they acquired premises near where they had settled in the Texas Hill Country and established Rupert Neve Designs (RND). 
Born in Newton Abbott, England, in 1926, Rupert showed an enthusiasm for electronics from an early age, repairing and building radios as a boy while growing up in Argentina. At the age of 17 he volunteered to serve during World War II, joining the Royal Signals, which provides communications support to the British Army. Returning to civilian life in England, he built a mobile system to record choral groups and public events onto lacquer disks. He also supplied public address systems for events involving Princess Elizabeth, now Queen Elizabeth II, and Winston Churchill.
The company manufactures the 5088 analog mixing console and a range of rackmount and desktop processing, summing and other equipment, including the Portico, Portico II, and Shelford lines. In 2012 RND began producing equipment in the 500 series form factor and in 2018 Rupert released his first digital design, the RMP-D8 Dante-networked multichannel microphone preamp.
Rupert's contributions to the professional sound industry were recognized with a Lifetime Achievement Technical GRAMMY Award in 1997, an Audio Engineering Society Fellowship Award in 2006, 16 TEC (Technical Excellence and Creativity) Awards for Rupert Neve Designs products, and Studio Sound magazine's Audio Person of the Century Award, in 1999.
After working for Rediffusion, Ferguson Radio and a transformer manufacturer for a time, Rupert set up his first business, CQ Audio, manufacturing home hi-fi amplifiers and loudspeakers. In 1960, a composer in Ireland commissioned him to design and build his first audio mixing console — the piece of equipment with which he ultimately became synonymous. In 1961, Rupert and his wife established Neve Electronics.
Adopting the latest technology, Rupert designed his first transistor-based equalizer in 1964, then produced his first transistor mixing console, for Philips Records' studios. In subsequent years, he designed and manufactured many of the iconic pieces of equipment for which he has since become celebrated, such as the Neve 80 and 50 series mixing desks. Years later, individual microphone preamp, equalizer and processing modules originally incorporated into those consoles, such as the 1073 and 1081, became highly prized for their sonic character. The relative scarcity of original modules has spawned a host of boutique manufacturers making reproduction units.
Rupert adopted digital technology in 1977, introducing the world's first moving fader system, NECAM (NEve Computer Assisted Mixdown), and installing the first system at producer George Martin's Air Studios in London. The Neve 81 series of mixing desks integrated digital assignable controls into an otherwise analog design.
Rupert and Evelyn sold the Neve Companies in 1975, by which time they employed 500 people worldwide with manufacturing locations in England and Scotland and sales offices across North America. Austria's Siemens Corp. subsequently acquired the Neve brand from its new owner, later selling the company to AMS in England.
Rupert and Evelyn, now operating as ARN Consultants, established Focusrite Ltd. in 1985, producing outboard equipment and a large-format mixing console, of which just eight were made. 
Part of the mission of ARN Consultants was to provide sound reinforcement and acoustics solutions in difficult environments such as churches and cathedrals. Rupert also developed techniques and equipment to enable the building of low-budget studios around the world. During the 1970s and '80s, he established the Cambridge Radio Course, an intensive residential course intended for Christian workers using radio to educate, inform and entertain their communities.
ARN Consultants moved on to work with Amek Systems and Controls Ltd. in Manchester, England. Rupert's first design project was "The Equaliser," a stereo mastering EQ produced by Amek under the Medici brand. That led to further collaboration with the manufacturer and the development of another large-format mixing console, the Amek 9098, and a line of outboard equipment derived from the analog desk designs. Rupert's Transformer-Like Amplifier (TLA) design was integrated into several Amek mixing console lines.
ARN Consultants, now operating from Wimberley, Texas, worked on a number of projects, including Legendary Audio's "The Masterpiece," a modular mastering system. Rupert also became involved in the MI (musical instrument) market for the first time, designing a preamp and pickup assembly for Taylor Guitars. In 2011 he partnered with sE Electronics to design the Rupert Neve Signature Series of active ribbon, condenser, and tube condenser microphones.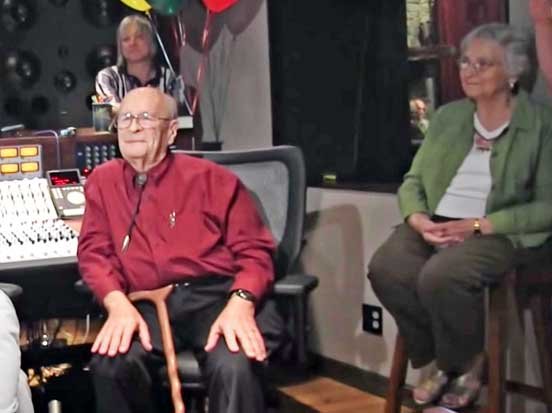 In 2011, Yamaha launched the first Rupert Neve Designs plug-ins, approved by Rupert, for its Steinberg platform. The plug-ins, emulations of the designer's current and classic module circuits, have also been integrated into Yamaha's CL Series and Rivage PM10 digital consoles for live sound production, another first for Rupert. 
Rupert returned to his roots in 2019 with Fidelice, a new range of product from Rupert Neve Designs for the high-fidelity audio market. The line launched with a headphone amplifier, phono preamplifier and digital-to-analog converter.
Rupert is survived by his wife of nearly 70 years, Evelyn; five children, Mary, David, John, Stephen, and Ann; nine grandchildren; and five great-grandchildren.
William A. Palmer  1911 - 1996
William A. Palmer, 85, pioneer in audio recording that revolutionized "live" radio and television shows. After impressing Bing Crosby with their experiments and winning his backing, Palmer and his colleague John T. Mullin perfected an American version of the German "magnetophon" high-fidelity audio tape recorder in 1946. A year later, Crosby used their tape decks to record and edit his ABC network show, "Philco Radio Time," the first broadcast with magnetic tape. Palmer and Mullin helped Ampex Corp. create the first commercial U.S. audio tape recorder, which was introduced in 1948. Their work was the basis for later developments in magnetic data recording for instrumentation and computers and for videotape. Palmer built a precursor of videotape, the Palmer Television Film Recorder, in the early 1950s. With his San Francisco-based W.A. Palmer Films Inc., Palmer was also the first to use 16-millimeter film for commercial productions, beginning with World War II training films. A native Californian, Palmer earned an engineering degree at Stanford. On June 6 in Menlo Park, Calif.
Les Paul (June 9, 1915 – August 12, 2009)
Lester William Polsfuss, known as Les Paul, was an American jazz, country, and blues guitarist, songwriter, luthier, and inventor. He was one of the pioneers of the solid-body electric guitar. Paul taught himself how to play guitar, and while he is mainly known for jazz and popular music, he had an early career in country music. He is credited with many recording innovations. Although he was not the first to use the technique, his early experiments with overdubbing (also known as sound on sound), delay effects such as tape delay, phasing effects and multitrack recording were among the first to attract widespread attention.
His innovative talents extended into his playing style, including licks, trills, chording sequences, fretting techniques and timing, which set him apart from his contemporaries and inspired many guitarists of the present day. He recorded with his wife Mary Ford in the 1950s, and they sold millions of records.
Among his many honors, Paul is one of a handful of artists with a permanent, stand-alone exhibit in the Rock and Roll Hall of Fame. He is prominently named by the music museum on its website as an "architect" and a "key inductee" with Sam Phillips and Alan Freed. Les Paul is the only person to be included in both the Rock and Roll Hall of Fame and the National Inventors Hall of Fame.
Lester "Rusty" Paul   1941 - 2015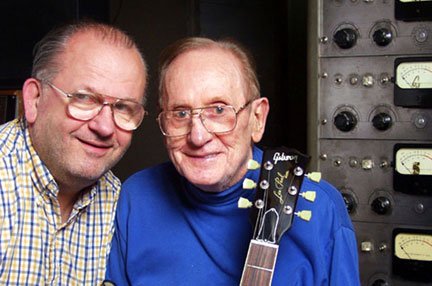 Lester "Rusty" Paul - Rusty Paul passed away December 31, 2015 born on June 16, 1941 in Chicago, IL. Longtime resident of Mahwah, NJ. Son of Les Paul and Virginia Webb. Following a battle with diabetes Russ passed away peacefully at the age of 74 on December 31, 2015 surrounded by family at Villa Marie Claire Hospice Care Center in Saddle River, NJ. Dear brother of Gene, Bobby and Colleen. Loving father of Stephen and his wife Maureen, Gary, Beth Anne and her husband Alex. Adored grandfather of Connor, Tucker, pre-deceased by Abigail, Madison, Aidan, Bryan and Kieran. Born and raised in Chicago, IL before moving to Mahwah, NJ. In his early years he attended Military School before joining the Army. He then formed a band with his brother Gene where they played throughout the New York/New Jersey area. He then obtained a position of recording engineer with Dick Charles Recording Studio, NY, NY. All the while continuing to work alongside his father doing Videography and sound, helping to preserve sound and extend the legacy. Listen to Martin's MOMSR phone interview with Rusty Paul on March 11, 2013.
Fritz Pfleumer (20 March 1881 in Salzburg – 29 August 1945 in Radebeul)
Fritz was born as the son of Robert and Minna, née Hünich. His father Robert (1848–1934) was born in Greiz, and his mother Minna (1846–1932) was born in Freiberg. Fritz had five siblings – Mimi, Hans, Hermann, Otto, and Mizi. Hans emigrated to the US.
Fritz Pfleumer, with his magnetic tape machine (1931)
Pfleumer developed a process for putting metal stripes on cigarette papers and reasoned that he could similarly coat a magnetic stripe to be used as an alternative to wire recording.
In 1927, after experimenting with various materials, Pfleumer used very thin paper that he coated with iron oxide powder using lacquer as glue. He received a patent in 1928.
On 1 December 1932 Pfleumer granted AEG the right to use his invention when building the world's first practical tape recorder, called Magnetophon K1. It was first demonstrated at the IFA in 1935.
Alexander M. Poniatoff  1893 - 1981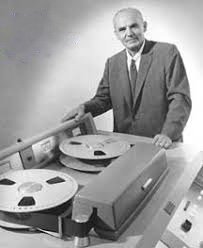 Poniatoff was born in 1892 in Aysha, Zelenodolsky District, Tatarstan, Russian Empire. He emigrated from Russia to China, where he worked for the Shanghai Power Company, until he emigrated to the United States in 1927. In 1944 he founded Ampex, using his initials A.M.P. plus "ex" for "excellence" to create the name. The high-frequency bias technique, which made quality recording possible, was invented by Telefunken engineers and put into practical use by Poniatoff. Danish engineer Valdemar Poulsen's original magnetic recorder was previously only usable for telephony recording. In 1956, Ampex engineers created the world's first rotary head recorder, the VR-1000 videotape recorder. Poniatoff served as president of Ampex until 1955, when he was elected chairman of the board. He died in 1980.
Solid bronze plaque (right) bust of the founder of Ampex Corporation. This plaque was hanging on the wall in the main lobby as you entered Ampex Head Quarters. The size is 29 "x 22 " and weighs 48 pounds. The owner of the plaque worked at Ampex for 34 years and when Ampex was sold he said, "I removed it from the wall and saved it from getting thrown in the dumpster."
Bill Porter (June 15, 1931 – July 7, 2010)
Bill Porter was an American audio engineer who helped shape the Nashville sound and recorded such stars as Chet Atkins, Louis Armstrong, the Everly Brothers, Elvis Presley, Barbara Streisand, Diana Ross, Ike & Tina Turner, Sammy Davis Jr., and Roy Orbison from the late 1950s through the 1980s. In one week of 1960, his recordings accounted for 15 of Billboard magazine's "Top 100," a feat none have matched.[2] Porter's engineering career covered over 7,000 recording sessions, and yielded 300 chart records, 49 Top 10, 11 Number Ones, and 37 gold records.[3]
Porter mixed concert sound for Presley, at his own request, from 1970 until the singer's death in 1977. At the University of Miami, Porter helped create the first college program in audio engineering, and he taught similar courses at the University of Colorado Denver, and at Webster University in St. Louis, Missouri. Porter, said to have a golden ear, was inducted into the TEC Awards Hall of Fame in 1992.
Valdemar Poulsen  (23 November 1869 – 23 July 1942)
Valdemar Poulsen (23 November 1869 – 23 July 1942) was a Danish engineer who made significant contributions to early radio technology. He developed a magnetic wire recorder called the telegraphone in 1898 and the first continuous wave radio transmitter, the Poulsen arc transmitter, in 1903, which was used in some of the first broadcasting stations until the early 1920s.
Poulsen was born on 23 November 1869 in Copenhagen. He was the son of the Supreme Court judge Jonas Nicolai Johannes Poulsen and Rebekka Magdalene (née Brandt).
The magnetic recording was demonstrated in principle as early as 1898 by Poulsen in his telegraphone. Magnetic wire recording, and its successor, magnetic tape recording, involve the use of a magnetizable medium which moves past a recording head. An electrical signal, which is analogous to the sound that is to be recorded, is fed to the recording head, inducing a pattern of magnetization similar to the signal. A playback head (which may be the same as the recording head) can then pick up the changes in the magnetic field from the tape and convert them into an electrical signal.
Poulsen obtained a Telegraphone Patent in 1898, and with his assistant, Peder O. Pedersen, later developed other magnetic recorders that recorded on steel wire, tape, or disks. None of these devices had electronic amplification, but the recorded signal was easily strong enough to be heard through a headset or even transmitted on telephone wires. At the 1900 World's Fair in Paris, Poulsen had the chance to record the voice of Emperor Franz Josef of Austria which is believed to be the oldest surviving magnetic audio recording today.
Poulsen developed an arc converter in 1908, referred to as the "Poulsen Arc Transmitter", which was widely used in radio before the advent of vacuum tube technology. The system was able to communicate between Lyngby and Newcastle with a 100-foot mast.
He died on 23 July 1942
A stamp was issued in honour of Poulsen in 1969.
The Valdemar Poulsen Gold Medal was awarded each year for outstanding research in the field of radio techniques and related fields by the Danish Academy of Technical Sciences [da]. The award was presented on November 23, the anniversary of his birth, and Poulsen himself received the inaugural award in 1939. The award was discontinued in 1993.
Milton T. (Bill) Putnam  (February 20, 1920 – April 13, 1989) 
Milton Tasker "Bill" Putnam was an American audio engineer, songwriter, producer, studio designer and businessman, who has been described as "the father of modern recording". He was the inventor of the modern recording console and is recognized as a key figure in the development of the postwar commercial recording industry.
Former colleague Bruce Swedien described Putnam's achievements thus:
"Bill Putnam was the father of recording as we know it today. The processes and designs which we take for granted — the design of modern recording desks, the way components are laid out and the way they function, console design, cue sends, multitrack switching — they all originated in Bill's imagination."
Putnam was the first person in the US to use artificial reverberation using echo chambers for commercial recording. (The BBC's broadcasting studios in Savoy Hill, London, used for both broadcasting and commercial recording, were the first anywhere to use purpose made echo chambers with both echo send and returns and cue sends and multi-band EQ, and recording to disc and tape as early as 1931.) He also developed the first US multi-band audio equalizer, and with his company Universal Recording Electronics Industries (UREI), he was responsible for the development of classic recording studio equipment including the UREI 1176LN, the UREI Time Align Monitor, and the Universal recordings consoles, which soon became standard equipment in studios all over America. Alongside his friend Les Paul, Putnam was also involved in the early development of stereophonic recording and he founded several major independent recording studios in Chicago, Las Vegas, Hollywood and San Francisco.
In 1947, Putnam made the first recording of a single artist singing more than one line on a recording made with Patti Page and George Barnes (musician), who suggested the "duet." Page sang one vocal line of "Confess",[1] and the second part was recorded onto a large 17.25" disc, then played back as she sang the main vocal line; the two vocals and accompaniment being wedded onto a wire recorder. Les Paul followed in short order with his own quite different technique for doubling vocals.
By the mid-1950s, Putnam was one of the most sought-after engineer-producers in the United States. Sam Phillips sent Elvis Presley's Mystery Train and I Forgot to Remember to Forget to Putnam in August, 1955 with the instructions: "Give me 'hot' level on both 78 and 45's and as much presence peak and bass as possible!."[4] Universal Recording had become so successful that clients including Nelson Riddle, Mitch Miller and Quincy Jones began urging him to open a facility on the west coast. In 1957, he sold his interest in Universal Recording and with support from Frank Sinatra and Bing Crosby, he established a new company called United Recording Corp. and moved to Hollywood, taking over and remodeling a defunct film studio[5] at 6050 Sunset Boulevard. Putnam was determined to incorporate as many technological innovations into the new complex as possible and he constructed new facilities, including a significant modernization of studio control room concept to permit multi-track monitoring and recording, featuring Putnam's innovative Bonnet design to provide overhead forward speaker mounting and provide seating space for guests while improving the engineer's view of the studio. Until that time, control rooms were typically small booths. These new control rooms also housed new multi-channel custom consoles designed and manufactured in a second story loft area of the building (the birthplace of UREI). United's facilities included three acoustically isolated studios of varying sizes, three lacquer mastering studios (one stereo) and a stereo re-mixing room. In addition, each studio had its own stereo acoustic reverberation room. All facilities were cross connected electronically at a central location so that all facilities were available to each other as needed.
When United Recording was founded, stereo recording was still a new innovation and it was considered little more than a novelty by the major record labels. But Putnam foresaw its importance and, at his own expense, he began making simultaneous stereo mixes of recordings produced at United Western and stockpiled these recordings. Around 1962, when stereo was taking off as a consumer audio format, the major labels found themselves without any significant back catalog of stereo recordings, so they offered to buy the stockpile of tapes. However, the canny Putnam cleverly negotiated a far more lucrative deal, whereby he was recompensed for the (much more expensive) studio time used in mixing the stereo versions. According to Putnam's former associate, Allen Sides, at this time the studio was bringing in around US $200,000 per month in studio billing (equivalent to US$1.62 million per month today).
In 1961, he acquired the neighboring Western Recorders, located at 6000 Sunset, remodeled it and incorporated it into the complex, which was then renamed United Western Recorders. The two buildings were then tied together electronically also to provide flexibility. United Recording Electronic Industries (UREI), having outgrown the loft facilities above United moved into an area in the East wing of the Western Recorders building. It moved again a few years later to much larger headquarters in North Hollywood. Putnam finally sold UREI to Harmon Industries who also owned JBL at the time.
After the United/Western merger, and at the request of several film music producers in Hollywood who were looking for a more modern sound for their films, the studios began to record film scores utilizing multi-track film recorders. Playing video cues and sync recording mono audio for quick playback in the studio was also a very popular time saver.
In 1985, Putnam sold the original studio to Allen Sides, who then renamed it Oceanway Recording.
Putnam died in Riverside,California at the age of 69, and was laid to rest in Valley Oaks Memorial Park in Westlake Village, Ca. The service was well attended by many Hollywood personalities connected with the music business, and a group of musicians got together a band to play some of Bills favorite tunes.
Phil Ramone   (January 5, 1934 – March 30, 2013)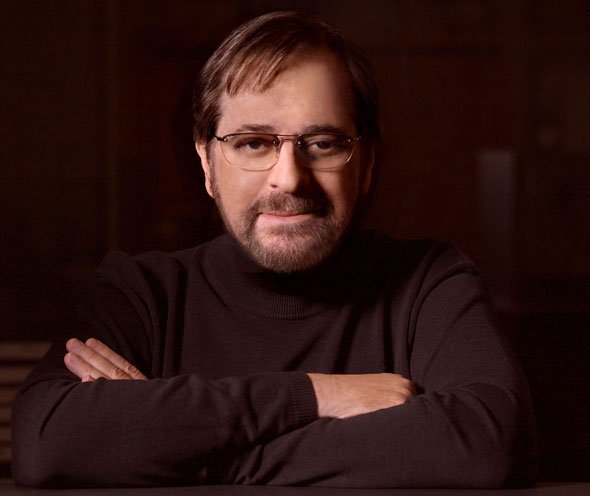 Philip "Phil" Ramone was a South African-born American recording engineer, record producer, violinist and composer,[who in 1958 co-founded A & R Recording, Inc., a recording studio with business partner Jack Arnold at 112 West 48th Street, New York, upstairs from the famous musicians' watering hole, Jim & Andy's, and several doors east of Manny's Music. The success of the original A&R Recording allowed it to expand into several studios and a record production company. He was described by Billboard as "legendary", and the BBC as a "CD pioneer"Peter A. Rasmussen founder of Viking.
Ramone grew up in Brooklyn, New York, USA. As a child in South Africa, Ramone was a musical prodigy, beginning to play the violin at age three and performing for Princess Elizabeth at age ten. In the late 1940s he trained as a classical violinist at the Juilliard School, where one of his classmates was Phil Woods. Ramone opened his own recording studio before he was 20. He became a naturalized citizen of the United States on December 14, 1953.
In 1959, Ramone established an independent recording studio A & R Recording (the initials were derived from the last initials of Ramone and his then-business partner Jack Arnold). Later the partnership which owned the studio consisted of Brooks Arthur owning half while Ramone, Donald Frey and Arthur Downs Ward (1922–2002) owned the other fifty percent.
Ramone was a founding member of META (the Music & Engineering Technology Alliance).
Ramone introduced optical surround sound for movies. His book, Making Records: The Scenes Behind the Music, written with Chuck Granata, was released on October 9, 2007. Also in October 2007, Ramone produced a limited engagement performance of Richard Vetere's Be My Love: The Mario Lanza Story.The play was directed by Charles Messina and co-produced by Sonny Grosso. It premiered at The Tilles Center in Greenvale, New York.
n addition to producing music, Ramone had numerous concert, film, Broadway and television productions to his credit that include A Star is Born, Walkabout, August Rush, Beyond the Sea, Flashdance, Ghostbusters, Midnight Cowboy, On Her Majesty's Secret Service, Passion, Seussical, Simon and Garfunkel: The Concert In Central Park, Songwriters Hall of Fame Awards, The Score, VH1/BBC Party at the Palace: Queen's Jubilee Concert and The Good Thief. A champion of music educational programs, Ramone served on the boards of the National Mentoring Partnership and Berklee College of Music.
On July 8, 2008, Columbia records released The Stranger 30th Anniversary, which features interviews with Ramone. This box set includes a remastered version of the 1977 Billy Joel album, The Stranger by Ramone. The following summer, Ramone produced Gershwin Across America, a tribute album to the music of George and Ira Gershwin. 
Ramone was hospitalized in late February 2013 with an aortic aneurysm. He died of complications from surgery related to the aortic aneurysm. on March 30, 2013, at New York Presbyterian Hospital in Manhattan at the age of 79.
Richard Howland Ranger   (13 June 1889 – 10 January 1962)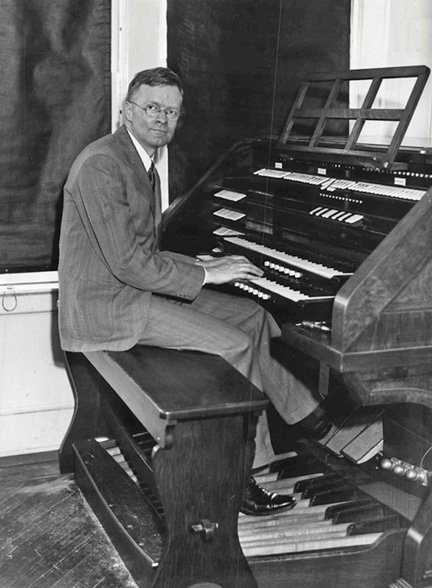 Richard Ranger was an American electrical engineer, music engineer and inventor. He served in the U.S. Army Signal Corps during World War I, earning the rank of Major. After the war, he attended the Massachusetts Institute of Technology (MIT) from 1919 to 1923.
As a designer for the Radio Corporation of America (RCA), in 1924, Richard Ranger invented the wireless photoradiogram, or transoceanic radio facsimile, the forerunner of today's fax machines. A photograph of President Calvin Coolidge sent from New York to London in November 1924 became the first photo picture reproduced by transoceanic radio facsimile. Commercial use of Ranger's product began two years later.
In 1930, he formed a company, Rangertone, Inc., in Newark, New Jersey. The company, which marketed the electronic 'Rangertone Organ', was sold after his death, and remains privately owned as Rangertone Research, Inc.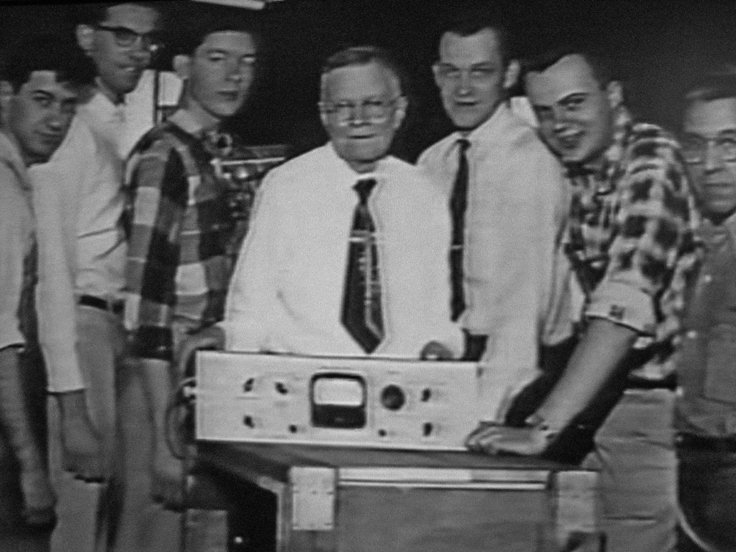 In 1932, he invented the NBC chime machine, an automatic device to reproduce the familiar hand-struck NBC chimes used by the National Broadcasting Company (NBC) radio network. By connecting his electrically operated chimes with outdoor loudspeakers, he was later able to create the effect of church bells. He also did other work relating to electronic organs.

During World War II, he returned to the U.S. Army Signal Corps as a Colonel and was put in charge of radar and communications at the Radio and Radar Test Labs in Orlando, Florida. He later went to Europe as part of Field information Agency, Technical, an investigative team between 1944 and 1946 to examine German advances in electronics and wrote a series of technical reports on electrical components, communications, television, and (most significantly) magnetic tape recording. 

After the war, Ranger's work led to further development of magnetic tape recorders. He developed a product using the German technology, and demonstrated it to potential users, including the members of the Institute of Radio Engineers, the National Broadcasting Company, the Radio Corporation of America, the American Institute of Electrical Engineers, and individuals like singer Bing Crosby.
His subsequent refinements led to improved synchronization of sound and visual portions of films. The Academy of Motion Picture Arts and Sciences presented Ranger with an Oscar in 1956 for his development of the tape recorder and synchronization of film and sound.

Richard H. Ranger was inducted into the New Jersey Inventors Hall of Fame in 1997.
Peter A. Rasmussen - (? - 1967)
Peter A. Rasmussen founded the Viking Tool & Machine Corporation in Belleville, NJ and first applied for its trademark on Wednesday, March 20, 1946.  A U.S. federal trademark registration was filed for VIKING by VIKING TOOL & MACHINE CORPORATION, THE, . The USPTO has given the VIKING trademark serial number of 71498665. The current federal status of this trademark filing is EXPIRED.  The VIKING trademark is filed in the category of Yarns and Thread . The description provided to the USPTO for VIKING is MES, MOLDS, AND TAPPING AND SCREW FORMING APPARATUS.
In 1947 the Viking company was known for making the Minit Popcorn Machine
Viking was sold to Telex in 1966. Telex Communications, Tulsa, Oklahoma who had started out in 1936 making hearing aids
1967 Telex built a new 50,000 sq.ft. plant in Blue Earth, MN to assemble Viking tape recorders which were previously being built in Bloomington
Emil Rathenau (11 December 1838 – 20 June 1915)  Founded AEG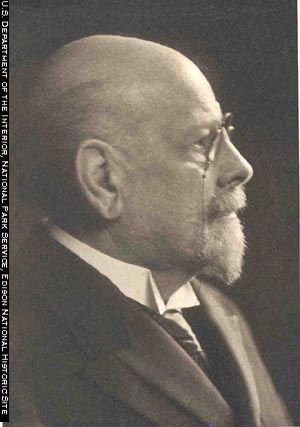 Rathenau was born in Berlin, into a wealthy Jewish merchant family based on Viktoriastrasse by the Tiergarten, an old Jewish quarter of the city. Henriette Herz and Rahel Varnhagen could describe Friedrich von Genz, and the philosopher, Schiller, both known to his grandparents and father Moritz Rathenau.
In 1865, Rathenau was a partner in a factory, during which time (while traveling abroad) he recognized the possibilities of the then newly emerging electrical technology. The dramatic victory over France in the Franco-Prussian War was ensued by a collapse, prompting Rathenau to sell up in 1873.
A Grand Tour of Central and Eastern Europe took him to Vienna Science Exhibition, Philadelphia, and Paris. In 1881, he attended the International Exposition of Electricity, Paris and saw Thomas Alva Edison's invention of the light bulb for the first time.[1] Realizing the potential of electricity, he acquired the rights to manufacture products based on Edison's patents with the help of a bank group. By 1907 AEG had become the largest commercial company in the world. The bank advised him to partner with his competitor Werner von Siemens. Since both were followers of the idea of monopoly they signed a contract of trust (monopoly) where Siemens was producing and selling generators and Rathenau built power stations and laid cables. In 1883 he founded the "German Edison Corporation for Applied Electricity" (Deutsche Edison-Gesellschaft für angewandte Elektrizität), which in 1887 changed into the Allgemeine Elektrizitäts-Gesellschaft (General Electricity Incorporated) abbreviated AEG.
On February 19, 1884 Rathenau and the magistrate of Berlin signed an agreement on the electrification of the city.[1] While he financed the deal, Rathenau's private company was also permitted to use public streets to lay electricity lines. The city received 10% of the income for giving its authorization. Peter Becker, a German energy expert has called this Germany's first private-public partnership and after the first power station went online to illuminate the 'Gendarmenmarkt' at night. The Berlin model became influential throughout the German Empire.[1]
In 1903, Rathenau was appointed general manager of AEG. Together with his competitor and business partner, they formed the Telefunken Gesellschaft für drahtlose Telegraphie mbH. He held numerous positions on the supervisory board of Berliner Handels-Gesellschaft und der Elektrizitäts AG vorm. W. Lahmeyer & Co.
Rathenau was married in 1866 to Mathilde Nachmann, daughter of a Frankfurt banker. One of his sons was the famous Walther Rathenau, a Weimar-era industrialist, politician, and progressive economist. Walther was assassinated in June 1922 by gangsters of the extreme right-wing. He had another son named Erich Rathenau and a daughter Edith
John J. Scully ( - 1989) & his son Lawrence J. (Larry) Scully (photo left) (1906 - 1989) founded Scully Recorders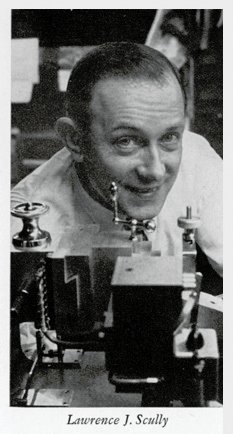 Scully Recording Instruments was a major manufacturer of professional audio tape recorders and other equipment based in Bridgeport, Connecticut from 1919 to approximately 1974.
The Scully Lathe was designed by John J. Scully (who originally was from Ireland) and his son Lawrence Scully. John J. Scully worked for Columbia Records from 1915 to 1919. In 1919 in his machine shop he produced a recording lathe.
Larry Scully founded Scully Recording Instruments in Bridgeport Connecticut as a builder of disc cutting lathes. He was a gifted machinist and designer.
Business went well and Scully dominated the marketplace for lathes from the 1930's to the 1960's. Almost all major
When Neumann lathes arrived in the US, it became clear that Scully had a problem and the decision was made to enter the tape recorder market. John Mosley enabled Scully to move to tape recorders.
Scully Raised $300,000 & bought parts for 500 recorders at a cost of $270,000. The first recorder was named the 270 (based on the $270,000) by their Sales Manager Ham Brosious.
The Scully 270 was a long play machine with 14" reel capacity and auto reverse. It was used for logging, backgroundmusic and automated radio stations.
In 1966 many recording studios were looking to upgrade to 1" 8-track. Although Ampex had invented Sel-Sync and built the first 1" 8-track (Les Paul's "Octopus") and several others (Tom Dowd at Atlantic) as special orders they still didn't "get" the idea of 1" 8-track music production.
Scully positioned themselves to gain this market and entered it aggressively in June of 1966.
The company was sold in the late 1960s and after staying on for five years both the Grandson Jerry and his dad joined forces to create LJ Scully. They stayed in business together until 1988.
The founder John J. Scully passed away in 1989. Larry & Jerry produced play-back machines as well as their own lathe in later years.
Scully was purchased by Dictaphone in 1967 but apparently operations continued as before. By the end of that year, Scully was a major player in the studio market when it introduced 1" 12-track (284 transport) and later, 2" 16-track machines (288 transport).
From 1967 to 1969, 1/4" 2-track and 1" 8-track machines were Scully's best sellers. 3M sent all multitrack recorder manufacturers scurrying in 1969 when it introduced the M56 16-track machine.
Scully's share in the disc lathe market continued to be challenged by Neumann's integrated systems. At this point, Dictaphone decided to move manufacturing of the tape recorders to Mountain View California. A machine that had been built in Bridgeport Connecticut began to be referred to as a "Bridgeport Scully".
Scully backed out of the multitrack market before 2" 24-track caught on and concentrated on the broadcast market developing an updated 1 to 8-track machine, the 280B.
Though an excellent machine that built on the reliability of the 280 transport with new low noise electronics, the 280B entered a market that now had MCI JH110, Ampex AG440, 3M M79, Studer B67 and early entries from Tascam and Otari. 280 B manual
Sales never took off, and after several years of mismanagement, Dictaphone eventually sold it to Ampro who apparently closed down thereafter.
Presumably, when Larry Scully's non-compete with Dictaphone ran out, he made a brief return to the market in the mid '80's with the very sophisticated Scully LJ-10 and LJ-12. But, they never had a chance competing in a market that now had Sony owning MCI.
Fritz Sennheiser  (May 9, 1912 – May 17, 2010) Sennheiser Electronic
Born in Berlin on May 9, 1912, Sennheiser grew up with an interest in radios and electronics. Sennheiser built a crystal radio when he was 11 years old after seeing an early radio He had originally hoped to become a landscape gardener, but chose instead to pursue electrical engineering at the Berlin Institute of Technology and earned a Ph.D. from the Heinrich Hertz Institute in 1940.[2] Sennheiser developed a reverberation unit that was used at the 1936 Summer Olympics in Berlin. He was responsible for sending coded messages for the German Army during World War II.
Sennheiser went into business for himself, and achieved early success with a tube voltmeter and microphone, both of which were purchased by Siemens. Later products in the 1950s included his invention of the shotgun microphone, early wireless microphones as well as its distinctive headphones that fit over the ear with flat, disc-shaped headpieces. Sennheiser stepped down as chairman in 1982, turning control of the business over to his son Jörg. By the time of his death, the family-owned business employed 2,100 people with manufacturing facilities in Germany, Ireland and the United States and had sales of $500 million in 2008.
The Academy of Motion Picture Arts and Sciences recognized Sennheiser in 1987 with its Scientific and Engineering Award for the development of the MKH 816 shotgun microphone. The Audio Engineering Society (AES) awarded Sennheiser a fellowship in 1976, an honorary membership in 1980, and with its highest accolade, the AES Gold Medal, in 2002.
Sennheiser died at age 98 on May 17, 2010, and was survived by his son, daughter, three grandchildren and seven great-grandchildren
Stanley N. Shure  1902 - 1996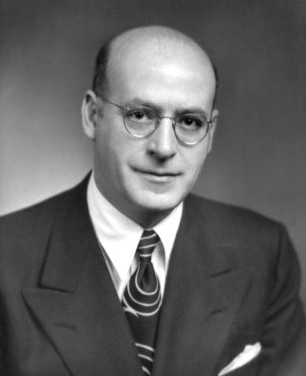 Stanley N. Shure, a leader in the audio electronics industry for much of the 20th century, died on Tuesday in Chicago.
Mr. Shure, who lived in Chicago, was 93.
Mr. Shure's company, the privately held Shure Brothers Inc., is the world's largest manufacturer of microphones. In the days before audio cassettes and compact disks, the company's phonograph cartridges were a staple. Virtually every leading phonograph maker, including RCA, Emerson, Magnavox and Motorola, turned to Shure Brothers for cartridges.
Born in Chicago, Mr. Shure received a bachelor's degree in geography from the University of Chicago.
An amateur radio hobbyist who as a young man worked in a radio factory, Mr. Shure began building his company in 1925, initially as a small wholesale parts supplier for builders of home radio sets.
The company, renamed Shure Brothers Inc. in 1928, moved into the production of microphones in 1932. Shure introduced the first modern noise-canceling microphone in 1937. Two years later, Shure invented the Unidyne, the world's first single-element directional microphone, which remains one of the most widely used microphone types in the world.
During World War II, Shure was a major microphone supplier to the armed services. The company received three Army-Navy "E" awards for excellence in service to the Government during the war.
An avid photographer with a strong interest in linguistics and foreign languages, Mr. Shure was also an internationally known philatelist.He was a fellow in the Royal Philatelic Society, the Chicago Philatelic Society and the New York Collectors Club. A portion of his extensive stamp collection was donated to the Smithsonian Institution.
Mr. Shure is survived by his wife, Rose Shure; a son, Robert, and a daughter, Myrna Shure.
Oberlin Smith (March 22, 1840 – July 19, 1926)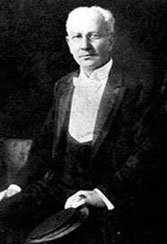 He was born on March 22, 1840 in Cincinnati, Ohio to George R. and Salome (Kemp) Smith.
He started a small machine shop in Bridgeton, New Jersey, where he lived most of his life, which became known as the Ferracute Machine Company in 1877. For the entire existence of the company he was the president and chief engineer.
He died on July 19, 1926 in New Jersey.
On September 8, 1888, Smith published a short note entitled "Some Possible Forms of the Phonograph" in the British journal Electrical World, where he suggested (probably for the first time) the use of permanent magnetic impressions for the recording of sound.  Smith suggested using cotton or silk thread, into which steel dust or short clippings of fine wire could be suspended. These particles were to be magnetized in accordance with the alternating current from a microphone source. Smith also discussed the possibility of using a hard metal wire or chain, but preferred the thread.
Smith built a machine to spin steel dust into thread, but could not harden the dust because of oxidation. As implementing his ideas would require thousands of hours of work, he published his theories but no one attempted to implement them. Many of Smith's ideas were independently reproduced by Valdemar Poulsen when he developed the first true magnetic recorder.
Mr Michael D. Spitz • ATR Services/ATR Magnetics • 08/20/1954 - 10/12/2013
Michael D. Spitz, 59, of York, died Saturday, October 12, 2013 at York Hospital, following a courageous battle with cancer. He was the husband of Bette L. (Ehrlich) Spitz, with whom he celebrated a 25th wedding anniversary November 14, 2012.
A Memorial Service will be held at 2:00 PM, Wednesday, October 16, 2013, Temple Beth Israel, 2090 Hollywood Drive, York.
Mike was born on August 20, 1954 in York a son of Lillian B. (Klein) Spitz of York and the late George A. Spitz.
He was a 1972 graduate of York Suburban High School and had attended York College.
Mike always had a passion for music recording and was the founder and co-owner of ATR Services and ATR Magnetics, (atrservice.com) both of York. He founded ATR Services, a company that manufactures mechanical and electronic products for analog recorders in San Mateo, CA, in 1991. In 2005, Mike also founded ATR Magnetics, these companies will continue to carry on that passion. He was a worldwide respected engineer, and has worked with many music professionals in the recording industry, to develop many products that preserve the quality of sound recording.
Mike was a devoted and loving husband, father, son and brother to his family. Besides his wife and mother, he leaves a daughter, Lauren N. Spitz; a son, Mark B.G. Spitz; a sister, Alyce L. Soffer and a nephew David B. Soffer all of York.
The family requests in lieu of flowers that memorial contributions be made to the SPCA of York County, 3159 Susquehanna Trail North, York, PA 17406 or to a charity of your choice.
The Geiple Funeral Home, Inc. 53 Main Street, Glen Rock is in charge of the arrangements. Condolences may be shared at geiple.com.
John Stephens 1930-2007 • founded Stephens Electronics, Inc.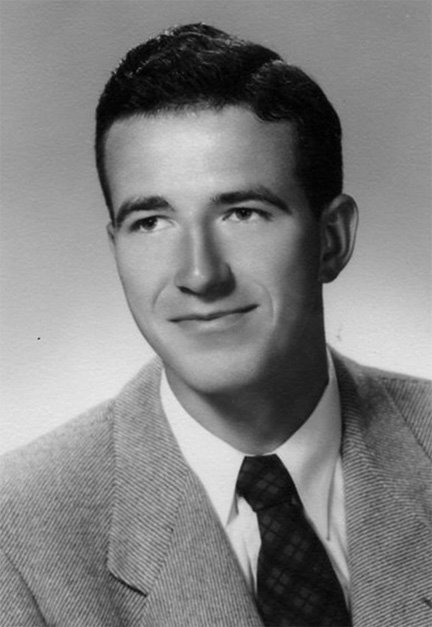 In the early- to mid-1960s, a young John Stephens was ready to take on the recording world.
Recording innovator John Stephens, founder of Stephens Electronics, died on August 6, at age 76, after a long bout with dementia. Born in Cleveland, Stephens was raised in Burbank, Calif., where he developed an early interest in electronics, learning from his father, an aeronautics engineer and avid amateur radio buff who later became Pacific Director of the FAA. In the post-war era, Stephens joined the Navy, continuing his electronics education and—in an era when RF mic systems were almost non-existent—he developed wireless microphone systems for troop entertainment.
After his Navy stint, Stephens worked for NASA's Jet Propulsion Laboratory, where he was engaged in ways of employing the new-found transistor technology. As the first commercial 8-tracks came to market, Stephens developed and sold improved record amplifiers and later bought transports from 3M, marketing them with his own electronics. Evidently perturbed about some outsider's designs outperforming its stock recorders, 3M stopped selling transports to Stephens, who then began building his own decks.
Even from the start, Stephens recorders combined excellent electronics, superb heads, a rigid 1-inch-thick deck plate and an innovative, highly accurate transport that was extremely gentle on tape. First unveiled by Stephens in 1971, the unique capstanless/pinch rollerless system required only two motors (supply and take-up), with a clever rotating idler that "chopped" the output of an LED into pulses that were compared to a crystal-locked time base for rock-solid servo transport motor control.
Offering a modular construction that made servicing simpler (and allowed the creation of custom portable decks housed in road cases), the Stephens machines also featured an optional battery supply that operated a deck for up to 16 hours from two car batteries. These were employed on countless live music and location film recordings, including classics such as Robert Altman's Nashville.
At most, Stephens only made a few hundred decks, ranging from ½-inch 2-track machines to 2-inch 40-tracks—another first—and a couple of custom consoles. Stephens was never much on self-promotion, but searching through some of the company's sales documentation and records revealed an impressive client list. Among his recorder customers were Hollywood Sound Recording, A&R Recording, A&M Recording, Ike & Tina Turner, The Village Recorder, Margaritaville, Enactron, Lions Gate Films, Pioneer Japan, Cornerstone Recording, NBC, UCLA, Spectrum Studios, Wayne Cook, Mark Lindsay, Roy Thomas Baker, Atlantic Sound, The Grateful Dead, Criterion Productions, John Farrar, Effanel, American Zoetrope, Secret Sound, Paramount and Circle Sound—among many others. A good number of these machines remain in service today and are still considered by many to be among the finest sounding recorders ever built.
In an era when so much recording gear is built by large corporations, a pioneer and innovator such as John Stephens was truly a one of a kind. His legacy lives on in the tools he built and the multitude of great recordings made on these machines. He will not be forgotten.
By George Peterson Aug 16, 2007 - Mix Magazine
 More information was shared with the museum by John Stephens' brother Rod Stephens and is provided here with his permission. 
Myron J. Stolaroff (August 20, 1920 – January 6, 2013)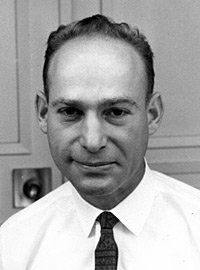 An author and researcher who is best known for his studies involving psychedelic psychotherapy. He also conducted clinical studies that attempted to measure the effects of LSD, mescaline, and other drugs on creativity.
Stolaroff was born in Roswell, New Mexico. In 1941, he received a Master's degree in Electrical Engineering from Stanford University. From 1942 through 1945, he held the title of Civilian Engineer at the Navy Department, Bureau of Ships. For the next fifteen years he worked for the recording equipment manufacturer Ampex, first as a senior design engineer, later as Director of Instrumentation Marketing, ultimately becoming responsible for long-range planning as Assistant to the President.
Along with fellow Ampex engineer, Harold Lindsey, Stolaroff co-designed the Ampex Model 200A reel-to-reel tape recorder, which was based on a German Magnetophon modified by the audio engineer Jack Mullin. With Bing Crosby arranging financial support for start-up manufacturing, the Ampex 200A went into production.[2] Crosby gifted one of the first units to Les Paul, inventor of the solid-body electric guitar, who went on to produce numerous innovative recordings.[3] Within three years most major recording studios had purchased an Ampex 200A. Songs such as Nat King Cole performing "Unforgettable" (1952 Capitol Records), Frank Sinatra performing "Young at Heart" (1953 Capitol Records), and Bill Haley performing "(We're Gonna) Rock Around the Clock" (1954 Decca Records), were recorded on an Ampex 200A. In 2008, Stolaroff was among the folks representing Ampex at the 50th Annual Grammy Awards Ceremony to accept the company's first Grammy Award for Technical Achievement, in honor of their contribution sixty years earlier of the Ampex 200A, which "revolutionized the radio and recording industries".[4]
In 1960, Stolaroff established the International Foundation for Advanced Study in Menlo Park, a non-profit medical research organization. He served as its president until 1970. During this time, he was the executive administrator for a group conducting clinical studies with LSD and mescaline; the IFAS administered psychedelics to about 350 participants. Their research resulted in six published papers on psychedelic therapy with Stolaroff as co-author on most of the articles. The Foundation's clinical studies came to an end in 1965 when the Food and Drug Administration (FDA) revoked research permits for psychedelics.
Stolaroff privately continued psychedelic research using unscheduled compounds from 1970 to 1986, until the Controlled Substance Analogue Enforcement Act of 1986 was passed and halted his research again.
Stolaroff also worked as a Consulting Engineer and as a General Manager of Multi-Media Productions, a manufacturer of social studies and sound filmstrips for public schools. He retired in 1979.
He published professional papers in the Journal of Nervous and Mental Disease, Gnosis, the Yearbook for Ethnomedicine and the Study of Consciousness, and several other journals. Stolaroff served on the board of directors of the Albert Hofmann Foundation. He was also a consultant to the Heffter Research Institute and was on the Board of Advisors for the Center for Cognitive Liberty and Ethics.
Stolaroff died on January 6, 2013.
Willi Studer 1912 - 1996  Founder of Studer/ReVox
"Willi Studer" founded Studer/ReVox on January 5th, 1948,  to develop and build oscilloscopes for high voltage labs.
One of the first tape recorders imported to Europe from the USA by the Traco Trading Company, Ltd. are not marketable without modifications.  So the importer Hans Casper, a dentist, approached Willi Studer to modify the Brush Soundmirror tape recorder by replacing capstan-shafts, friction pulleys and rollers.  The Soundmirror just was not built for the Swiss power grid. With 50 Hertz, the device vibrated still so much that it almost fell apart. The idea of developing and constructing a better tape recorder emerges.
500 recorders were built based on the first Studer-designed tape recorder.
Studer offered two different versions. The table top model was in a hinged wooden cabinet, which was produced by Walter Wehrli Carpenter in Hedingen. The apparatus, with built-in wire broadcast connection and two hours coils cost 1,275 Swiss francs ($1,430). The second device was designed as a synthetic leather case and was sold for 1,470 Swiss francs($1,646). In technical terms, both versions were identical. In a tape speed of 19 cm / s (7.5 ips) a play time of 60 minutes was possible with the devices. The operation was performed via a central control switch and the meter via a "magic eye". The approximately 18 Kg (40 lbs) heavy equipment possessed via an output power of four watts, a power consumption of 80 watts and were very easy to use.
The Dynavox, or ReVox T26 (which we have in the Museum's collection) had only one speed, 7 1/2 i.p.s.(19cm/sec.), and operated in the full track mode to ensure optimum dynamic range and the lowest possible background noise from the rather poor tape available at that time. Appreciating this need for long, uninterrupted playing times, the machine was designed to accommodate 25 cm.(10") spools from the start.
In 1951 ELA AG was founded by Willi Studer and Hans Winzeler. The Dynavox tape recorder was renamed into Revox T26and the prestigious recording of the "International Music Festival Lucerne" was made with a prototype of the first professional tape recorder Studer 27.  Dynavox became Revox and the T26 continued virtually unchanged until cessation of production in 1955.
In 1952 mass production of the Studer 27 begins, Willi Studer has 32 employees.
One of the company's most successful models was the Studer-Revox A77 recorder, which was introduced in 1967. It sold over 400,000 units.
In 1967 the "Beatles" choose the Studer J37 4-track for their album "Sergeant Pepper's Lonely Hearts Club Band". Introduction of the famous Revox A77 and its counterparts (amplifier A50 and FM-tuner A76). 
By 1968 560 employees work for Studer
By 1975 1,495 people are employed and Studer bought and built several production and distribution facilities worldwide.
1986 Studer Revox group employs 1882 people, including all subsidiaries worldwide.
1990 Willi Studer sells the Studer Revox Group to Motor-Columbus AG, including all subsidiary companies.
1994 The extensive reorganization culminates in the sale of the Studer Group to Harman International Inc.  It is operationally controlled by its UK-based sister company Soundcraft.  The Revox Group was excluded and sold to a financial company, or private group of investors.
1996 Willi Studer passed away on March 1, 1996.
A follow-up to the Harmon Studer story seems to indicate the Swiss employees were let go and all the Studer equipment was moved to Soundcraft facilities in the UK.
In November 2016 Studer Harmon was acquired by Samsung.
Joel Tall - EditAll 
Joel Tall was born on April 17, 1905 and passed away in December 1986. He was married to Leona B. Tall and was survived by one daughter Benita J. Kaplan. Leona helped Joel Tall found The Tall Company in the 1950's.
Benita Kaplan has generously donated some of Joel Tall's personal papers and photo to our Museum of Magnetic Sound Recording.
In 1950 Joel Tall filed U.S. Patent #US 2599667 A for his Splicing Block stating "This invention relates to splicing blocks, such as are used in splicing film and sound recording tape, and specifically it refers to a block which is particularly suitable for editing sound recording tape."   View the full patent  More information on Joel Tall
Vebjørn Tandberg 1904 - 1978 • founded Tanberg
Vebjørn Tandberg was a Norwegian electronics engineer. An alumnus of the Norwegian Institute of Technology, founded Tandbergs Radiofabrikk of Oslo in 1933, and made it a great success. In addition to his technical and commercial achievements, Tandberg was a pioneer in providing good conditions for his workforce.
He instituted a 42 hour week and 3 weeks yearly vacation for all in 1937, and a free pension and health insurance scheme for all from 1938. A four week vacation for all employees over 40 years of age was introduced in 1947, while the working week was reduced to 39 hours in 1948. There was a five day work week during the summer months from 1955, over the full year from 1969.
The company's first radio was named "Tommeliten", and used only earphones. This was followed by the "Corona" with a loudspeaker. In 1934 the first "Huldra" radio was launched, followed in 1936 by the "Sølvsuper". During the early years, radios, loudspeakers and microphones were the main output from the factory. The Sølvsuper and the Huldra radios became the foundation for Tandberg's success.
In the early 1950s, Tandberg opened a branch plant in Kjelsas (in Oslo) to produce reel-to-reel tape recorders. Their first model was the TB 1 (above right) , introduced to the market in 1952.
Over the next decade, Tandberg quickly incorporated a number of leading-edge concepts; the TB 2 Hi Fi of 1956 had three tape transport speeds, allowing improved high-frequency response.
The TB 3 Stereo from 1957 was Tandberg's first stereo system. In the 1960s Tandberg introduced the cross-field recording technique in the TB-6X model, allowing their recorders to handle higher frequencies than competing models.
Tandberg licensed the concept to Akai, who used it widely in the 1970s and 80s in their Akai and Roberts recorders.
Katsuma Tani founder of Teac Corporation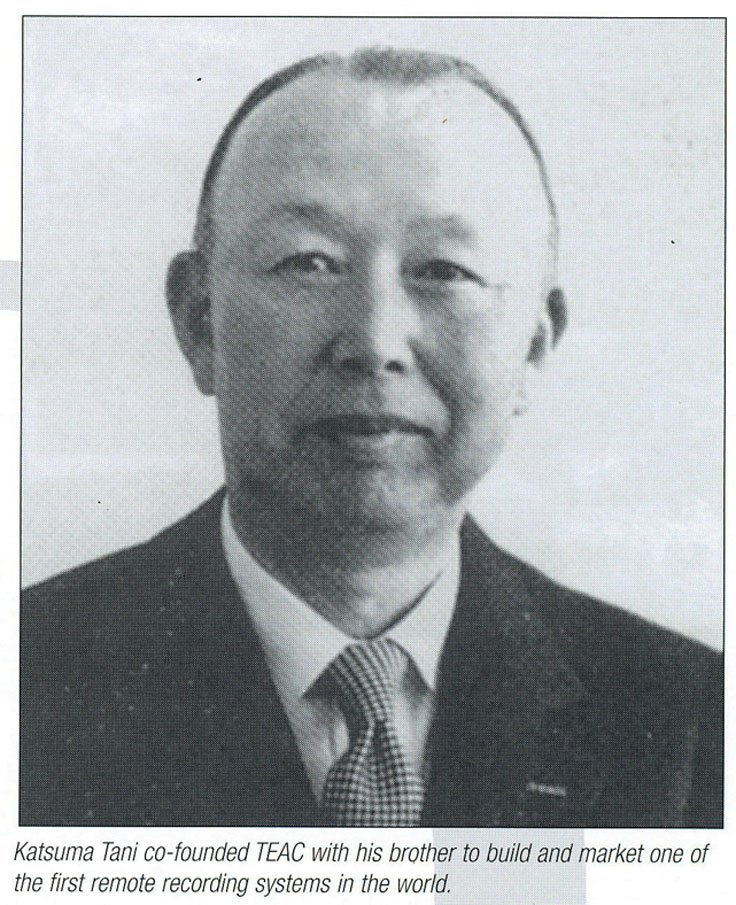 TEAC corporation was founded in August 1953 (In this year, NHK, the Japanese Broadcasting Corporation started television broadcasts in Japan). Factory was set up in Musashino City, Tokyo for the manufacture and sale of semi-professional audio components for recording and playback along with general electrical appliances.  Originally named the Tokyo Television Acoustic Company it employed Katsuma Tani (left), a former aviation and aeronautics engineer where he established a reputation as a highly qualified creator of audio equipment.  Known as the "King of Sound Technology" he had developed the first photo disc cutting system.
In 1956 his brother, Tomoma Tani, brought home a hand made 3-motor, 3 head stereo tape recorder. This sparked Katsuma's interest in reel-to-reel tape recorders. Confident they could engineer a better tape recorder the Tani brothers founded the Tokyo Electro-Acoustic Company on December 24th, 1956.  The name was later changed to TEAC. The factory was set up in Chitose-cho, Sumida Ward, Tokyo for the production of audio components, measurement and optical equipment and tape recorders.
 TEAC's goal was to be a leader in magnetic recording technology. In these early years when "hi-fi" was not a well known word, Tokyo Electro Acoustic Company developed a prototype of 3-motor open-reel tape transport system. In subsequent years TEAC introduced the world's first open-reel tape deck which had an automatic reverse mechanism. With this innovative product made in Japan the Tape-based hi-fi audio has begun.
Alfred L. Williams - Brush Development
Founder Alfred L. Williams began Brush Labs in 1919 to develop products that utilized piezoelectric crystals. Associates reorganized the company as Brush Development Company in 1930 with piezoelectric phonograph pickups as the company's main product.[1] Later they began manufacturing wire recorders, microphones, and speakers. Research for improvements to wire recorders resulted in a contract from the US National Defense Research Council during World War II. Brush manufactured a dictation recorder in 1946. [1]In 1950, Brush built the Model BL-206 and BL-216 Multichannel Oscillographs, and associate Model BL-932 DC Amplifiers. Brush Development Co. merged with the original Brush Labs and the Cleveland Graphite Bronze company in 1952. The new company was named Clevite. Audio products under the Brush trademark were sold until 1960. The Clevite company was absorbed by Gould-National Batteries in 1969.
Andrew Wollensak 1862 -1936 • founder of Wollensak (became Webcor)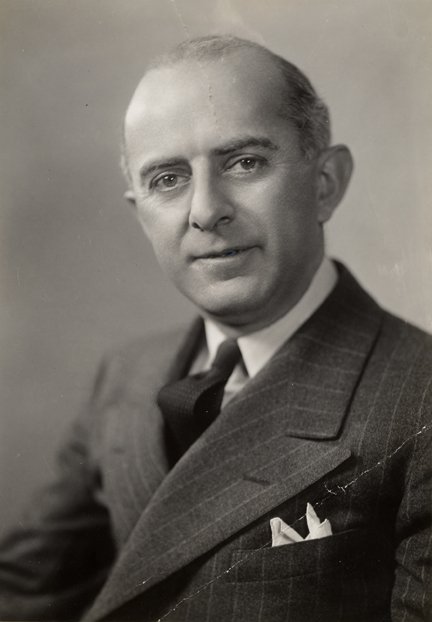 Wollensak was founded in 1899 by Andrew Wollensak to produce camera shutters. At its peak in the 1950s, it employed over a thousand people. The company had several owners, including Revere Camera Company and 3M Company. Wollensak ceased operation in 1972
3M also used the Wollensak brand name on audio tape recorders for many years; the Wollensak recorders were solidly built with all-metal construction. They were among the first manufacturers of cassette decks, as well as 8-track decks for home use.
---
Thank you for viewing our site! We hope you have found our information helpful and interesting. We are committed and passionate about preserving the history of recording. Please consider making a donation. Every little bit helps us protect and preserve these significant vintage recording devices and information.